Work community and teamwork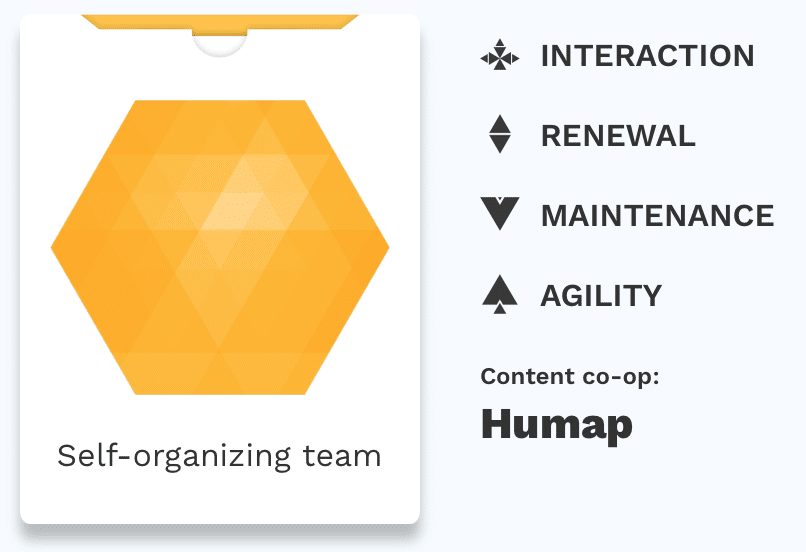 Self-organizing team
To develop team operations and self-direction. The deck deals with the team's ability to work together and innovate. The game is ideal for evaluating and developing team self-direction and shared leadership.
Use to develop team activities in team days, in team's weekly/monthly meetings, or team development discussions.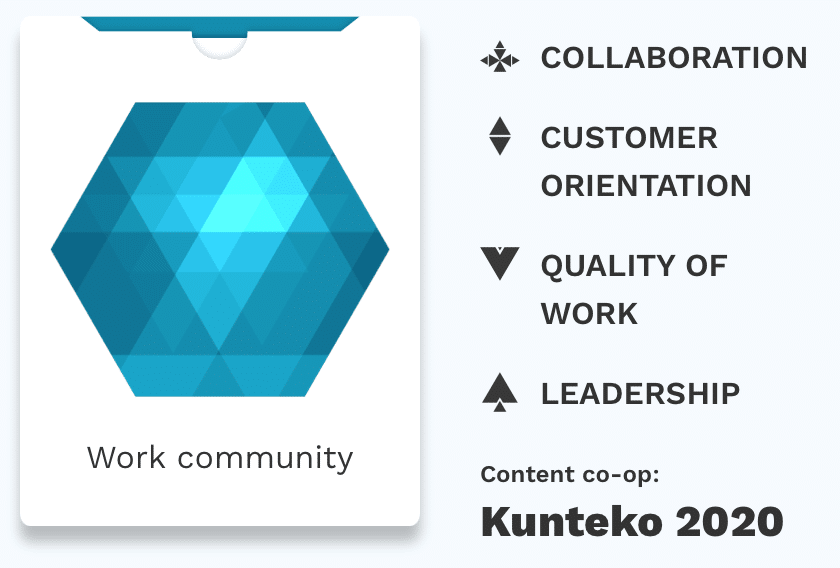 Work community
The work community deck deals with the work community as a whole and its development without forgetting the work community customer. The game is suitable for assessing the state of a team or work community and accelerating its development.
Use to develop the work community in team development discussions or as part of the entire work community development day or to discuss job satisfaction survey results.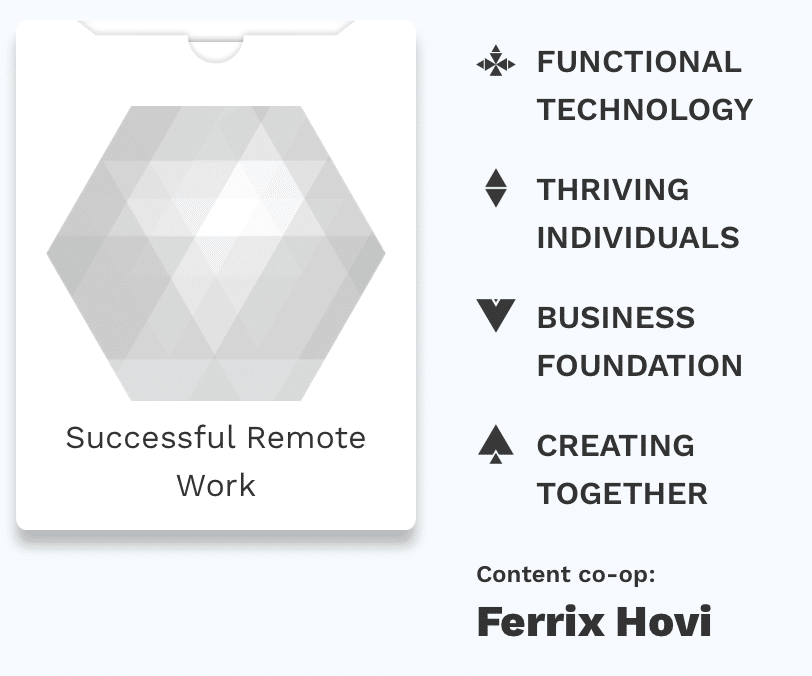 Successful Remote Work
"The result of the work should be at least the same regardless of the way or place the work is done. At least you know that remote ork is not productive if the results drop significantly compared to other work. " – Ferrix Hovi
Use to develop remote work and ways of working remotely.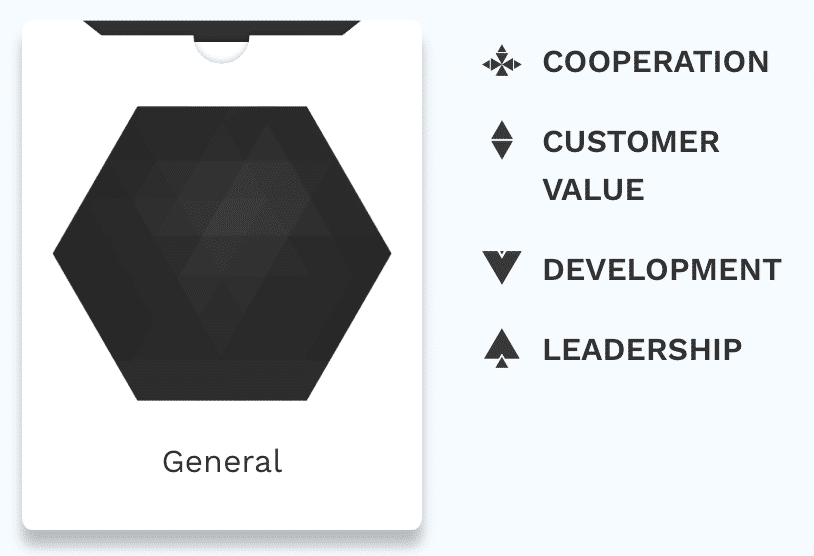 General deck
The general deck is a multi-purpose deck and the only one with no refinement texts on the cards, making it easier for the game team to apply the cards to their own context.
The general deck is a synthesis of best practices for team development and a good kit for assessing the current state of a team. The general deck has been compiled by Topaasia.
We recommend playing the first session with a general deck.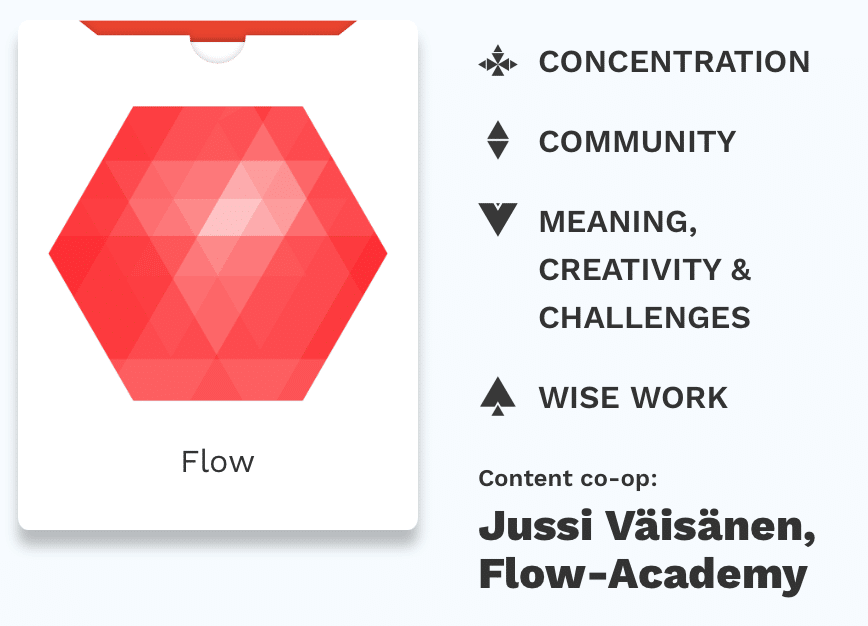 Flow
To improve the flow of team and work community activities. Deck addresses the ability of individuals and the community to nurture a state of flow at work through concentration, wise work, community, meaning, creativity and challenge. With the help of the deck, you can detect the challenges for the organization's flow and develop the work to flow more smoothly.
Use at team development days or a monthly meeting, at a management team development day, or as part of an entire work community development day. The more players have worked together, the better the deck works.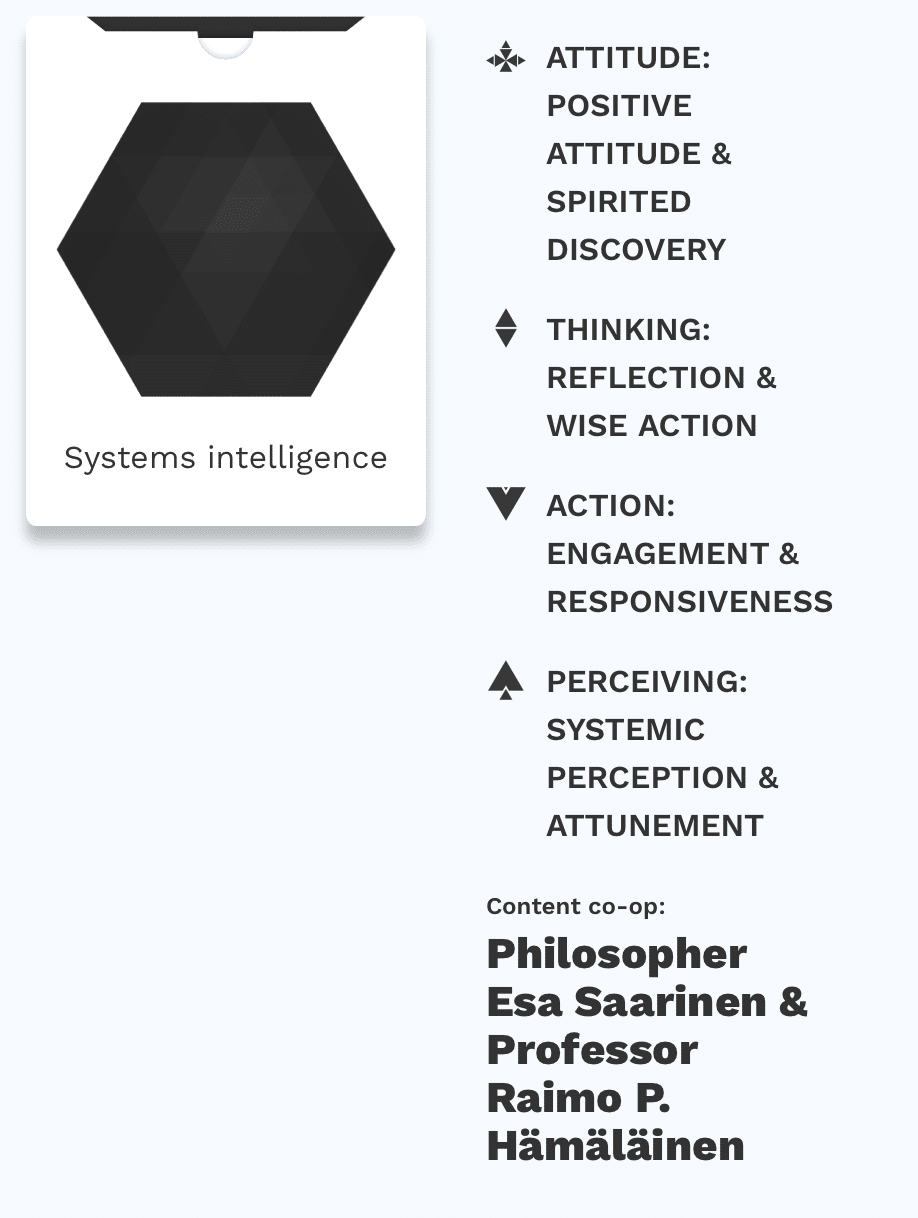 Systems intelligence
To develop team's and community's interaction. The content of the game is based on the systems intelligence research of philosopher Esa Saarinen and professor Raimo P. Hämäläinen. The deck deals with the system intelligence of the playing group, ie the ability to function better in the systems where the success of the group is measured.
Use when you want to address a group's ability to succeed and function in their surrounding system e.g. in a team weekly / monthly meeting, team days, or team development discussions.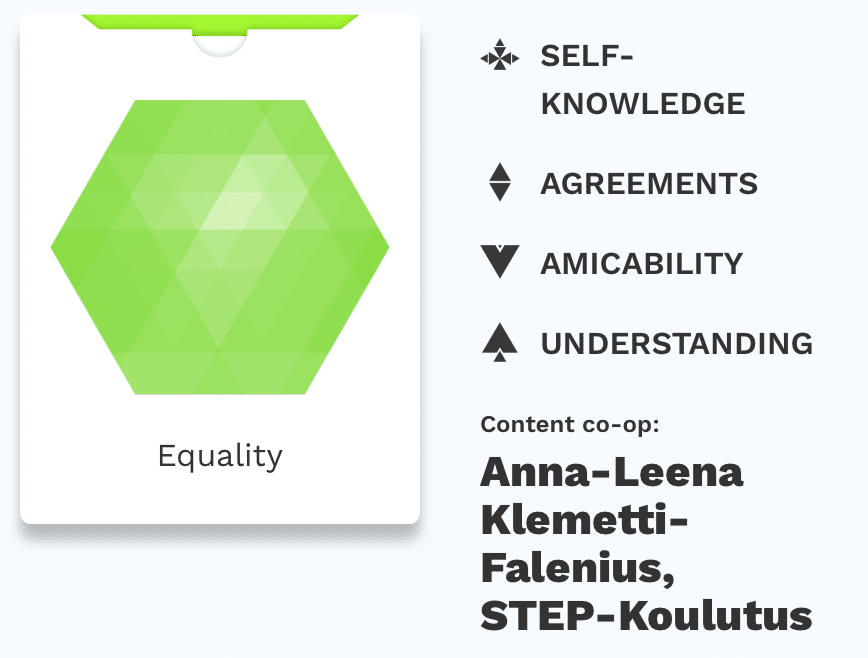 Equality
The equality deck is a good forum for identifying the norms and prejudices of both oneself and the work community, and it provides an opportunity to build peace and harmony in work life.
The Equality devck is challenging and demanding if players have the courage to address even those situations that have eroded the opportunity for everyone to participate as full members in the community.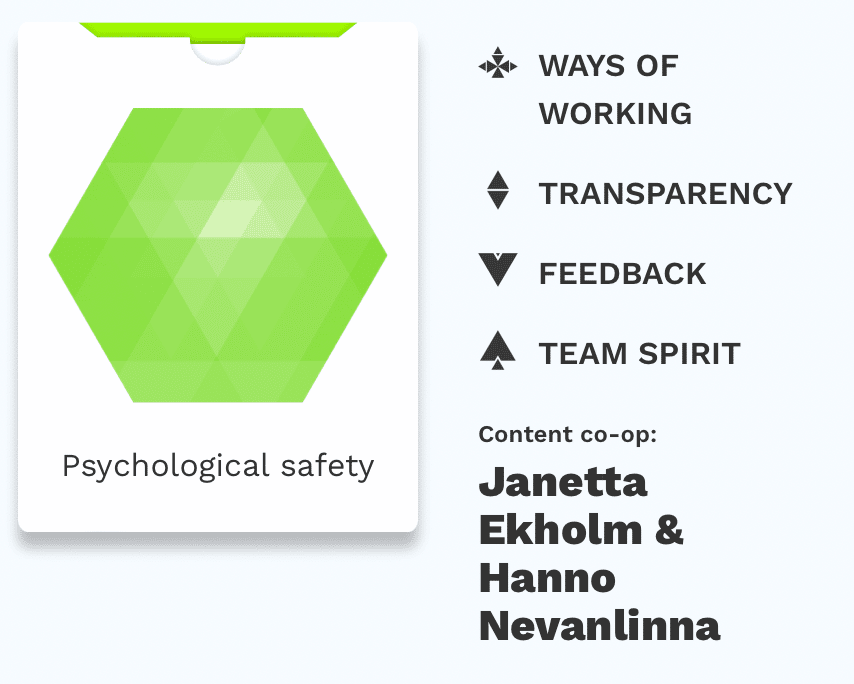 Psychological Safety
Psychological safety – the game helps teams to address their common behaviours, feedback culture, transparency and ways to create a positive atmosphere. The game is a content collaboration with Hanno Nevanlinna and Janetta Ekholm from Futurice.
"What correlates most with having a successful and productive team? How much one dares to say suggestions that might be bad and how much one dares to give of oneself in front of other people. As overused as psychological safety is, it's clear that if we want motivated teams, we need to invest in the factors that make a team a team. And those factors are the way we interact with each other."-Hanno Nevanlinna, Futurice
Use when you want to help a team work together as well as possible.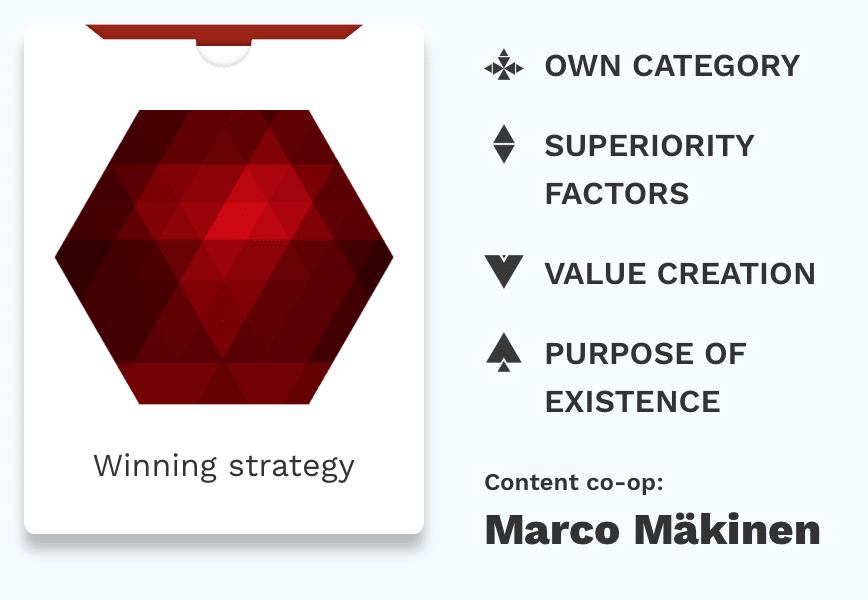 Winning strategy
A game of winning strategy discussion. A winning strategy is useful to play at all levels:
1. The board should play with management to see if the same game is being played at all. The benefit of such gaming and in-depth content is that there are no areas left out that have been talked about at all, but a common understanding of what our way of winning is and what we believe in.
2. Management should play with different employee groups and teams. A winning strategy is one that the organization should play through at least once a year.
3. I think it is crucial that the management team plays once a quarter. By constantly playing you can see how the situation has changed, you can notice that the purpose of existence is evolving and the factors of force majeure have changed.
4. Whenever you want to stop to think about the core issues of your business.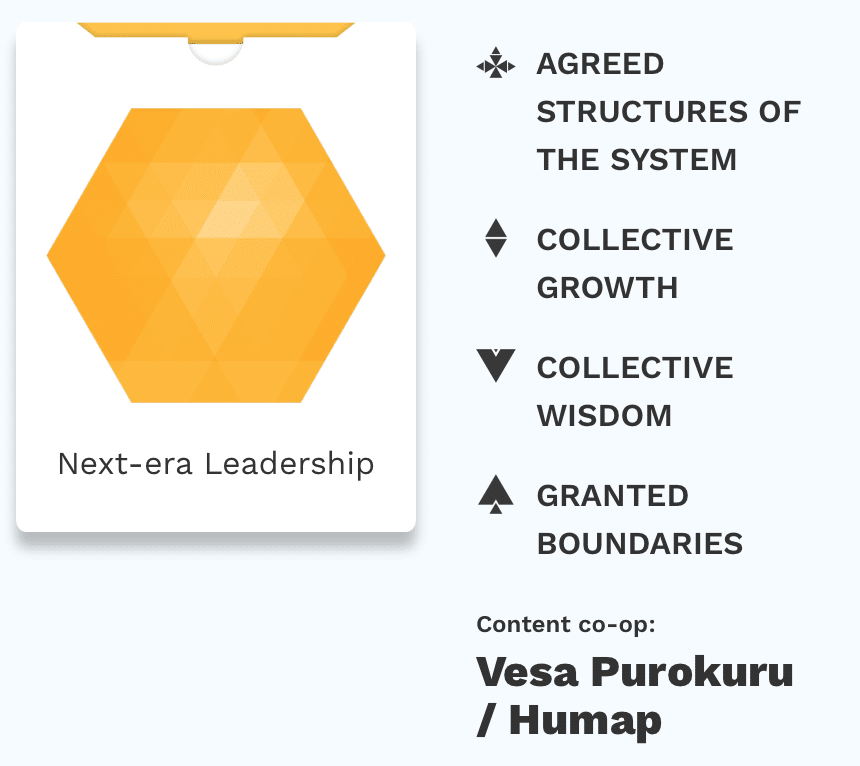 Next-era Leadership
"Next-era leadership means turning vertical leadership into a horizontal one, where leadership takes place dialogically between people. In this model, the formal leader is below the line and strives to promote and direct this co-leadership and dialogue smartly.
Use to develop and review leadership e.g. in management team meetings or for discussion of leadership throughout the organization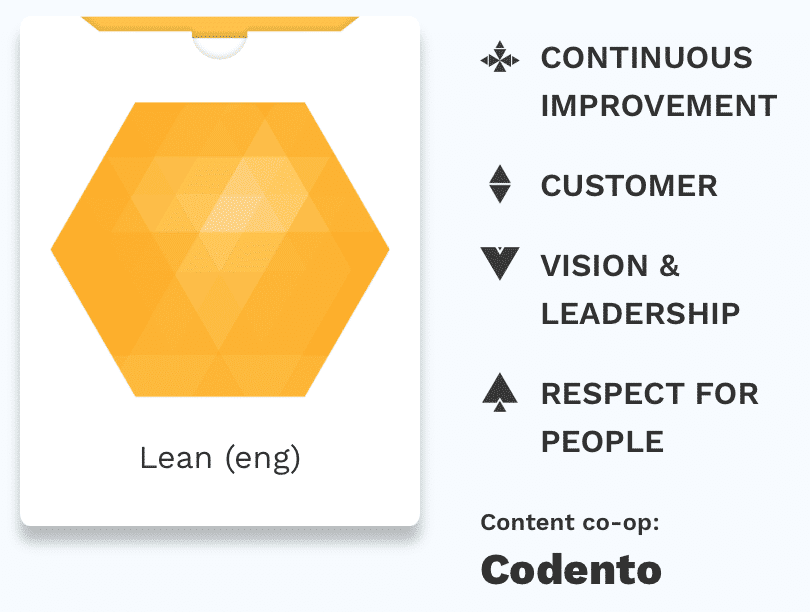 Lean
The Lean deck deals with streamlining operations and culture in accordance with the principles of Lean.
Use lean to address and develop principles in business development workshops and discussions to improve operations.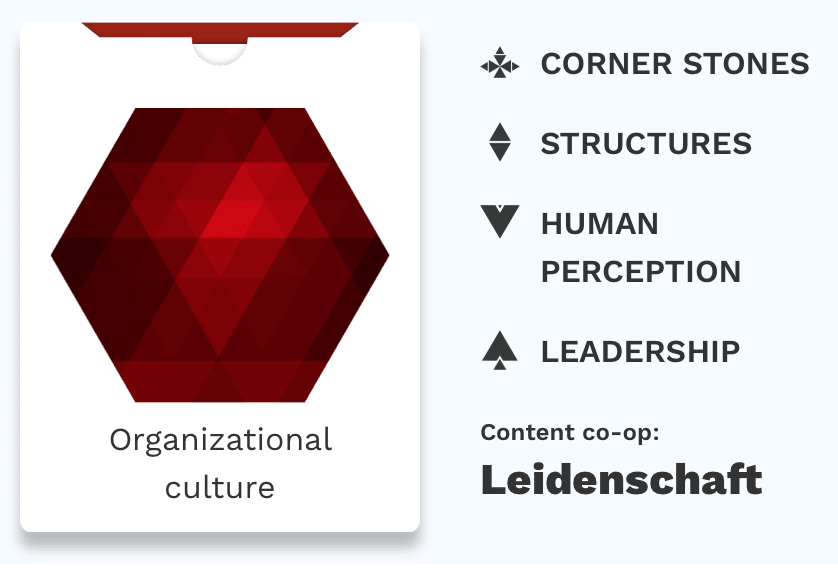 Organizational culture
An excellent deck for handling and developing a corporate culture. Deck made with Finland's first corporate culture office, Leidenschaft.
Use to comprehensively address and develop organizational culture in teams and the work community.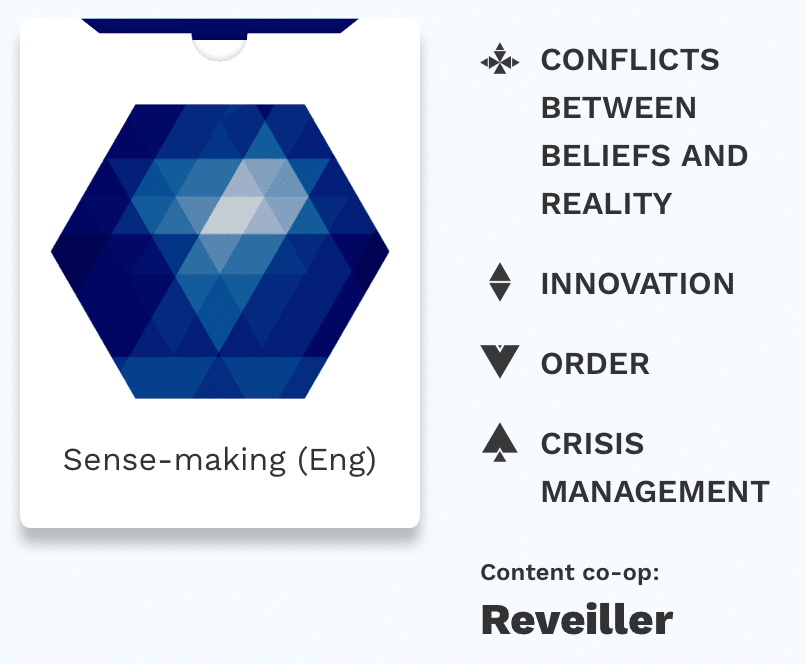 Sense-making
The Sense-Making deck is based on the Cynefin model and Sensemaker tool developed by Dave Snowden. The deck works great for dealing with diabolical topics.
Use when a group has a need to understand the current present, in developing leadership, or in carrying out innovation processes.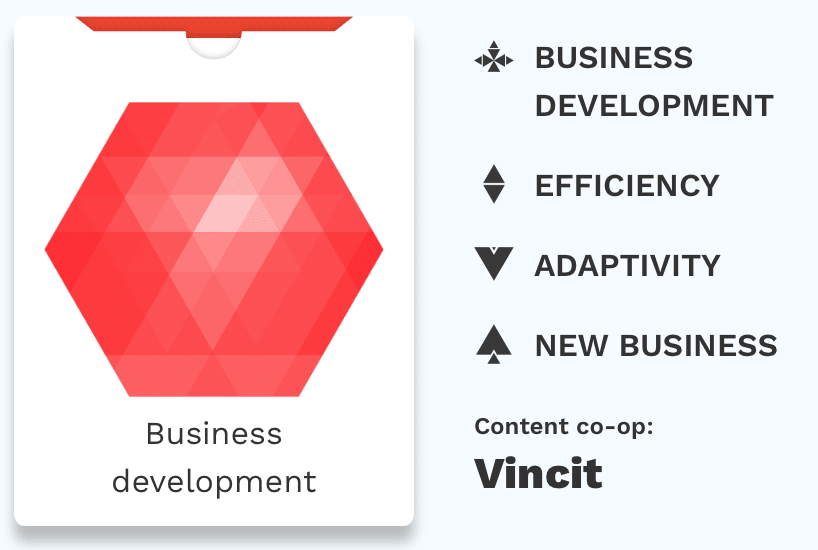 Business development
Business Development – The deck addresses the development of an existing business and the ability to create a completely new business. The deck is made specifically for executive management or in smaller companies or units as a general business assessment game.
Use for business evaluation and development at a management team meeting, board meetings, business development workshops, or at a management team development day.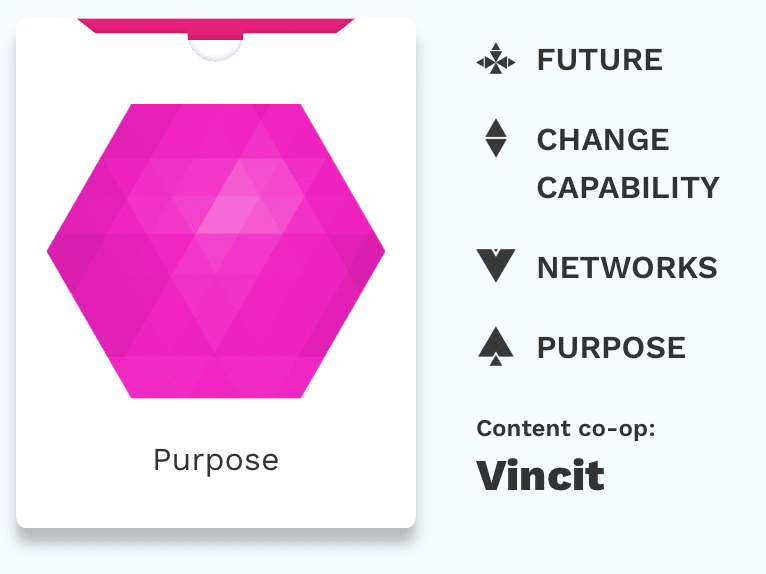 Purpose
Purpose – The deck discusses the purpose of an organization and the work it does in the big picture and in its networks. It is a deck for clarifying the importance of an organization in a changing world. The deck is aimed at management, owners and the board.
Use to clarify the purpose of the organization and communicate about it e.g. at a management team meeting, board meetings, business development workshops, management team development day or general meeting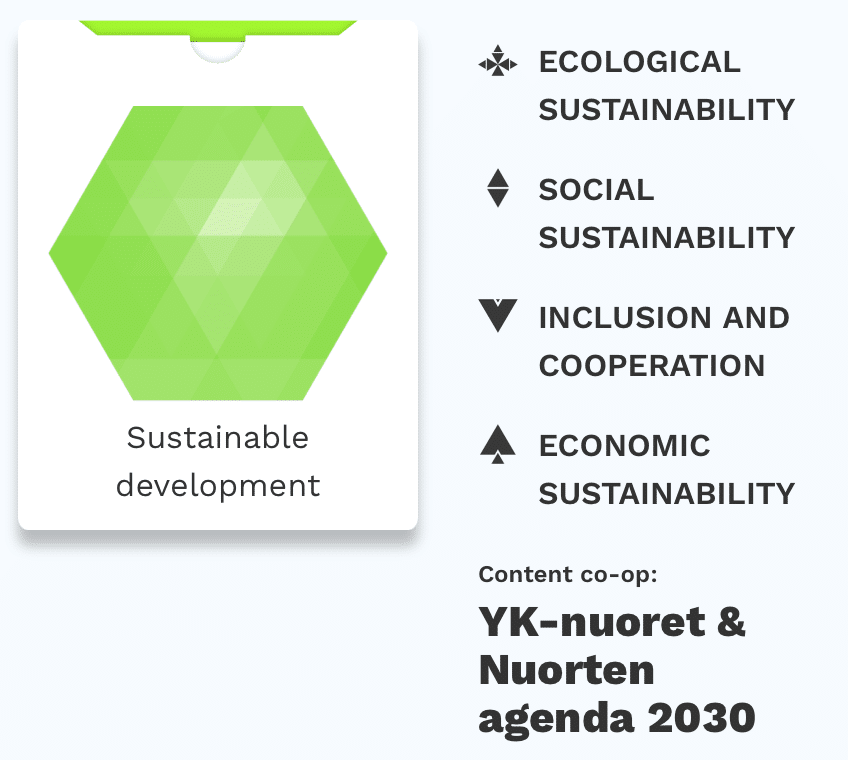 Sustainable development
Sustainable development is a useful game that discusses sustainable development and its promotion in an inclusive and concrete way.
Use in meetings designed to assess and promote sustainable development.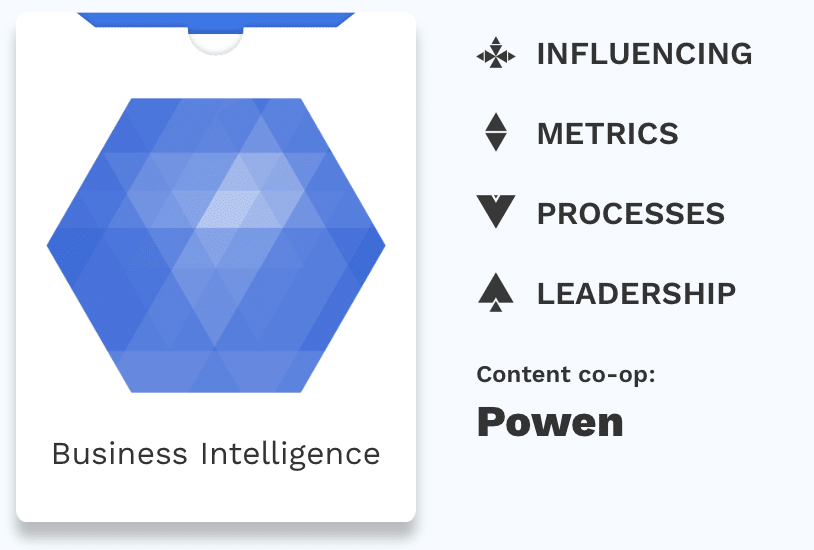 Business Intelligence
Business Intelligence – deck deals with information management and its various aspects.
Use the deck to develop business intelligenve leadership at a management team meeting, board meetings, business development workshops, or management team development day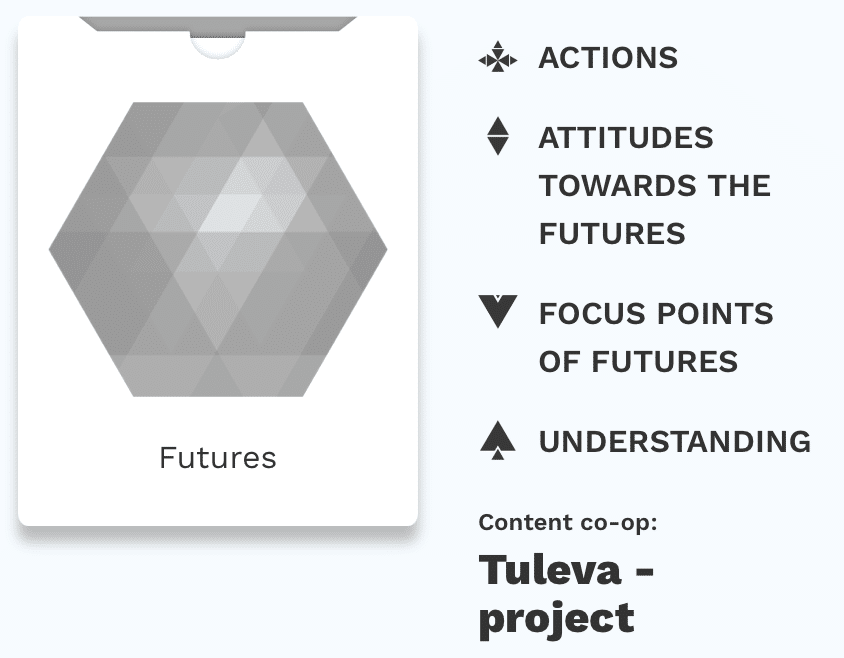 Futures
A game for handling the future of a team, product, or organization.
Use in workshops aimed at processing and outlining the future.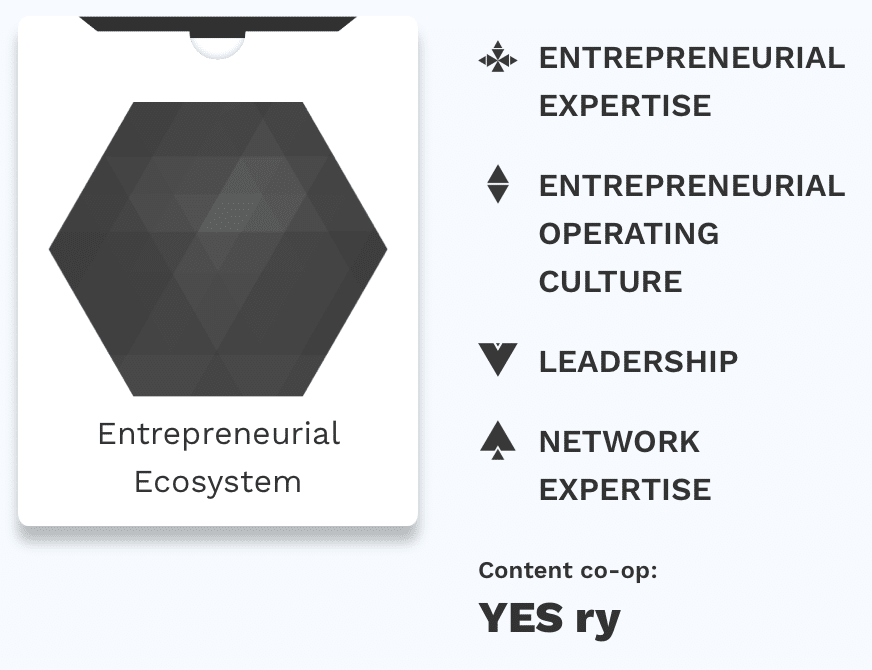 An entrepreneurial ecosystem
A game for developing an entrepreneurial ecosystem. The deck is aimed at organizations, educational institutions, public actors such as cities and municipalities, as well as anyone who wants to be involved in developing a better entrepreneurial ecosystem.
Use it when you want to develop your network in a more entrepreneurial direction.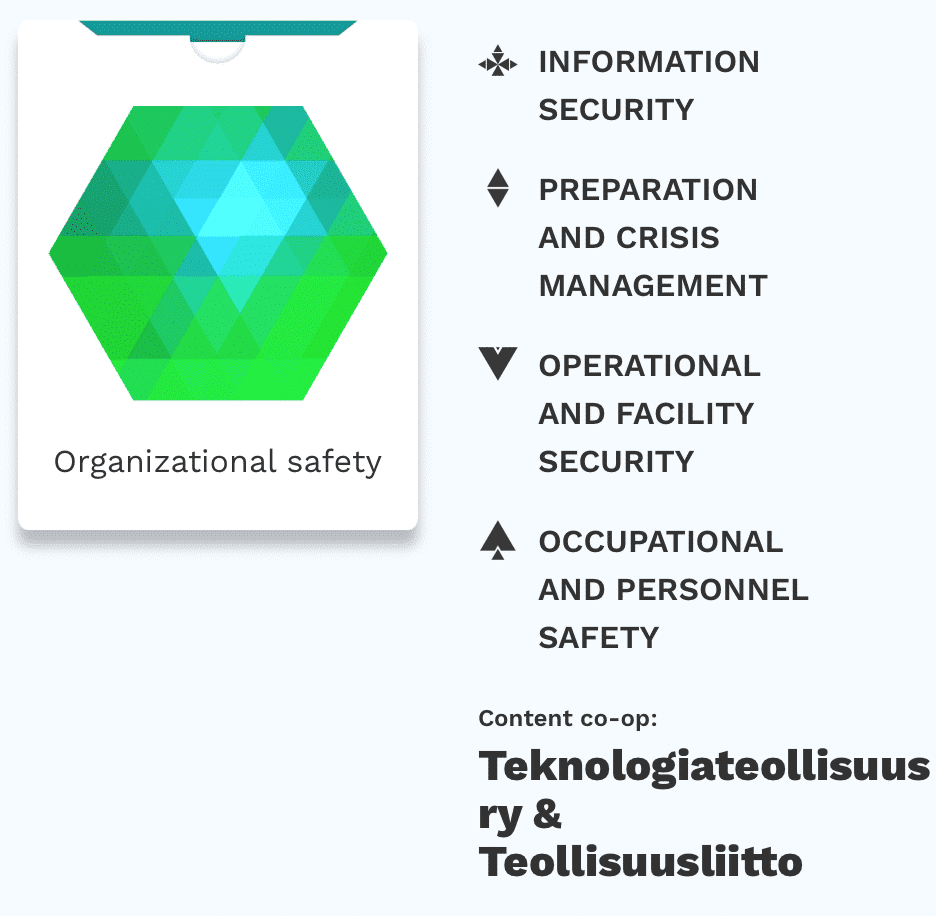 Organizational safety
Organizational safety is a comprehensive deck for the inclusive assessment and development of a company's various security issues.
Use in meetings where the level of safety issues in the company is to be assessed. The game can be played by the company's management, project teams and staff and best results come when you mix all the roles in the same session!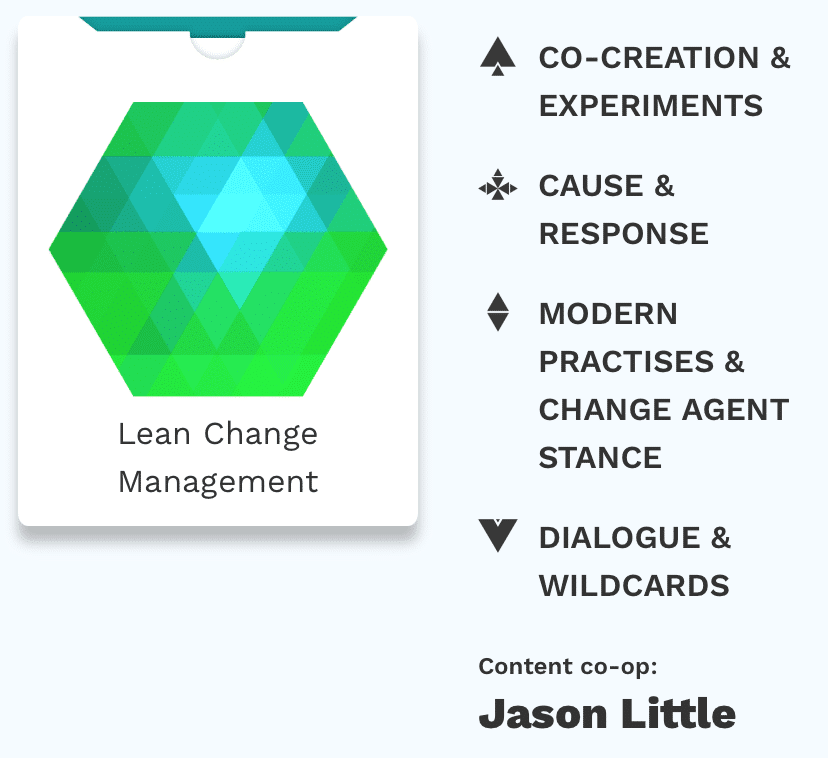 Lean Change Management
Lean Change Management is a deck for agile organizational change and its promotion.
Use in change situations, workshops and other meetings intended for change and its implementation, as well as in meetings related to management change.
Note. Lean Change Management deck available in English only.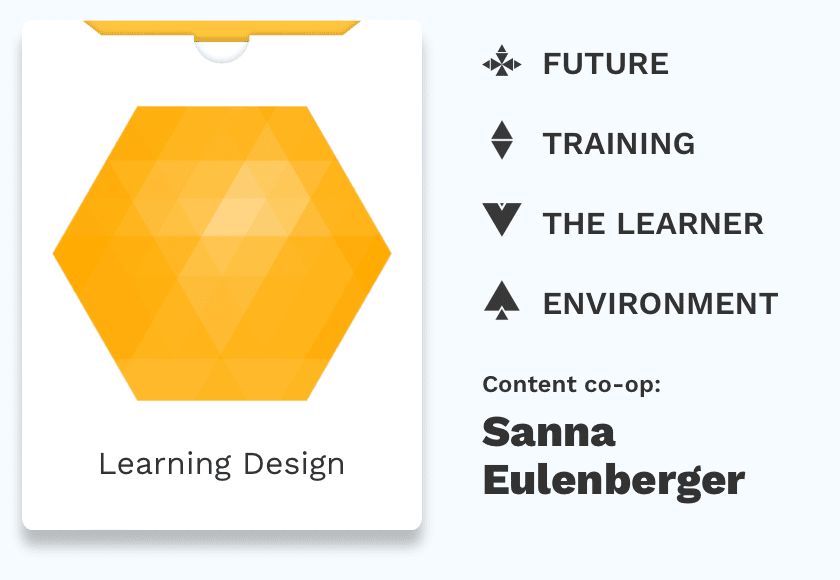 Learning design
The Learning Design -deck helps in learning design, and you can build a systematic approach to continuous learning. Growth through deep collective thinking and open sharing of knowledge are key success factors for the future of working life.
You can use the deck to help managers, supervisors, teams and groups to learn, develop and design the future together. It is also suitable for ecosystems to support broadening thinking and stimulate discussion in order to identify environmental changes that affect their activities.
Projects and product development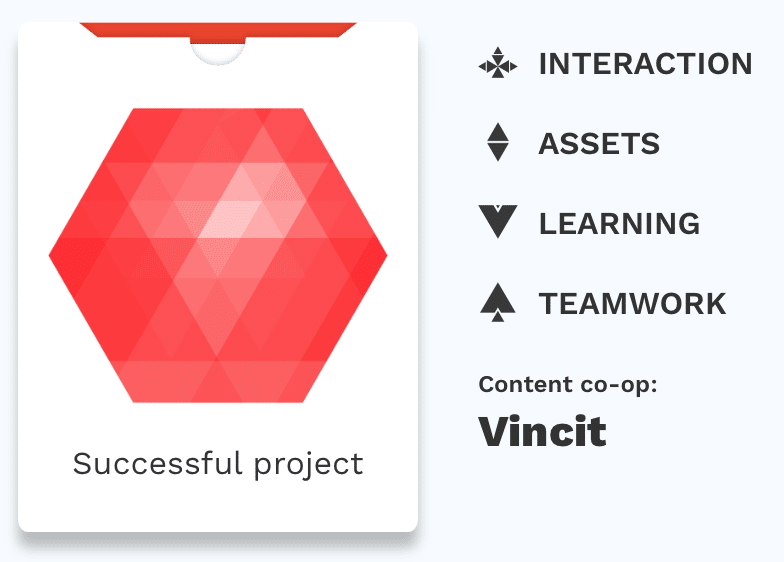 Successful project
To support the success of the project and the people involved in the project. Deck emphasizes the success factors that affect the project from the perspective of the project's people, teamwork and interaction.
Use to discuss about the prerequisites and expectations for project success in project starts, project meetings, mid-term starts, or retrospectives with the client or internally.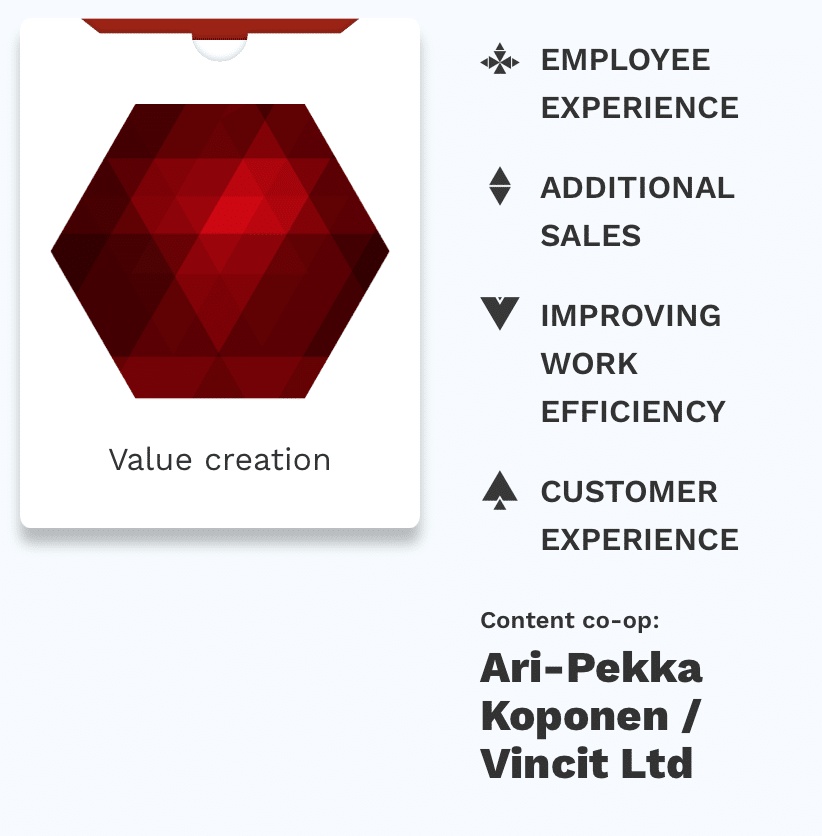 Value creation
Value creation – deck helps companies and teams to understand the value of their product or the service they provide. The deck is useful if you are creating or launching a new product or you want to find new perspectives on an existing product / service. For example, the deck can be used to clarify a promise of value, sales arguments, or the importance of your own organization on creating value for others.
Use to develop and evaluate the value of a product or service.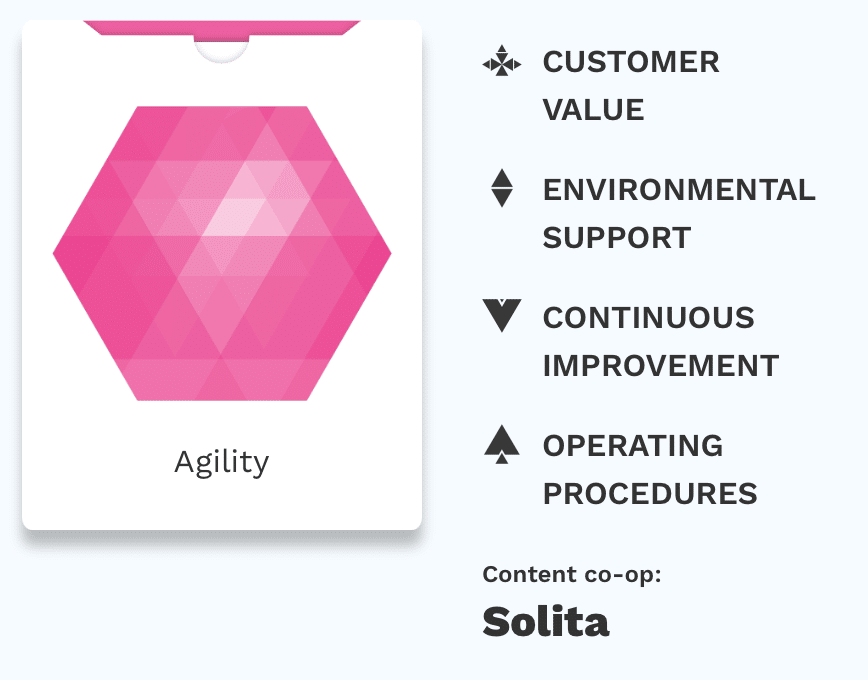 Agility
Agility – deck is suitable for perceiving and developing the priorities of development measures related to agility.
Use it to evaluate and develop agile practices at project startups, project meetings, workshops, or retrospectives that aim to develop internal functions to get value to customers more quickly.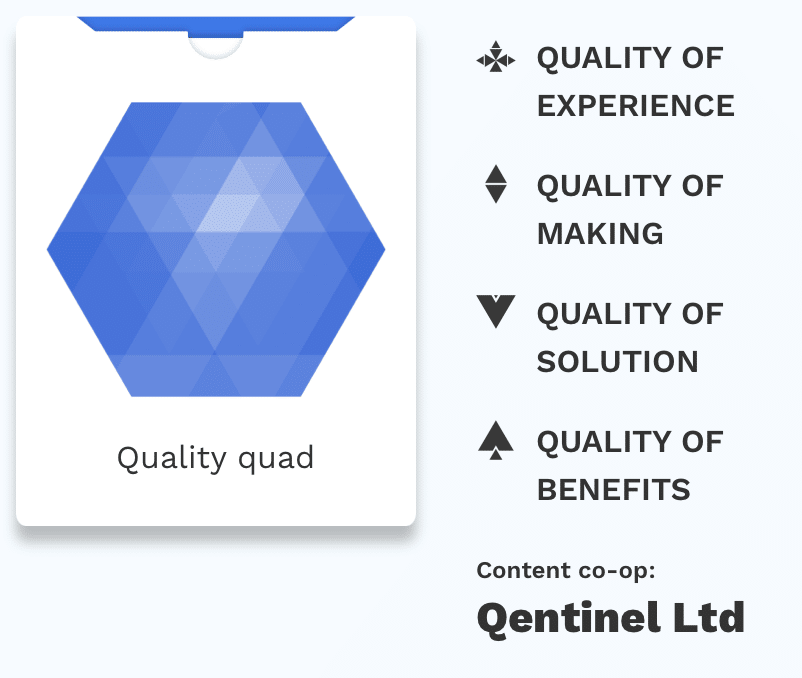 Quality quad
Quality quad – deck helps to discuss and make decisions about quality, and the game is designed to be used specifically for individuals and stakeholders who are preparing to make product development, system development, or other investment decision. This game should be played with as many investment stakeholders as possible.
Use to discuss about quality and make decisions. For individuals and stakeholders preparing to make a product development, system development, or other investment decision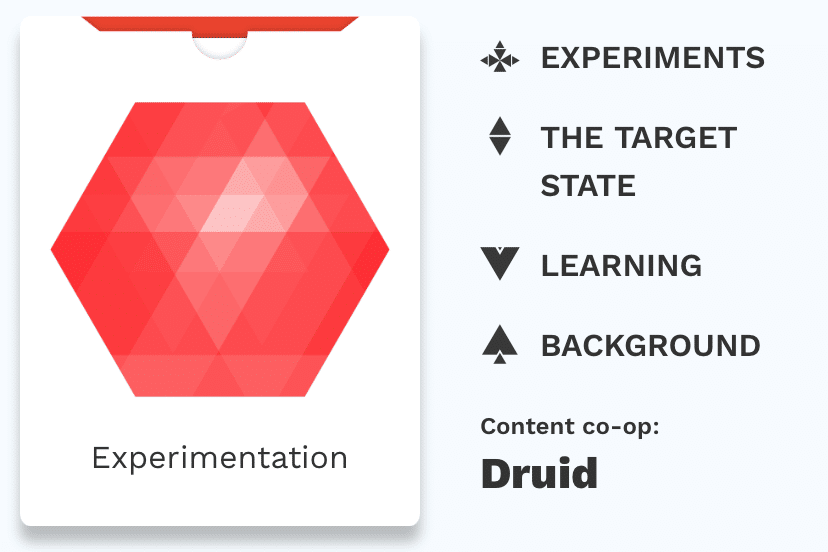 Experiments
Experiments – deck discusses the experimental culture and ability to conduct experiments in an organization and team.
Use to develop experiments and an experimental culture and engage in discussion about experiments.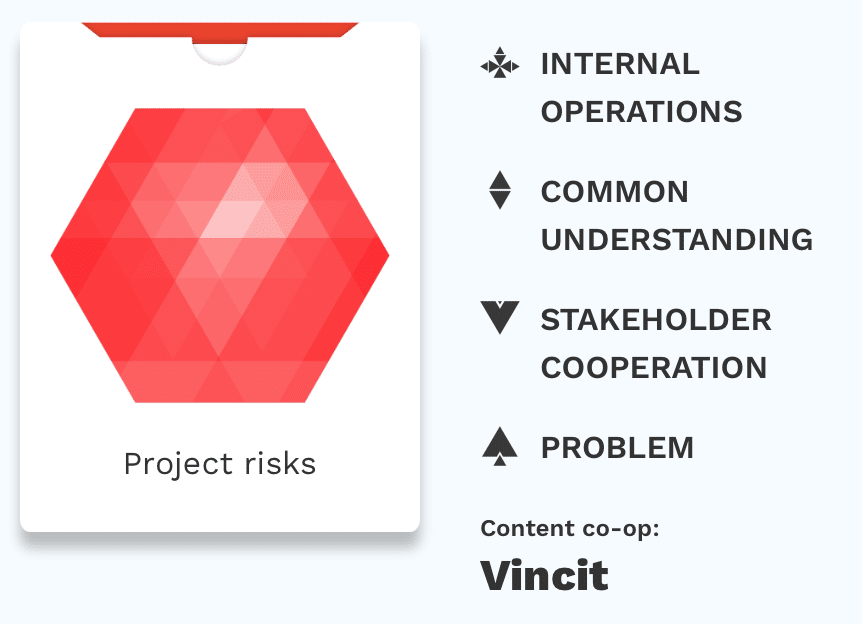 Project risks
The contents of the deck are compiled from the most likely risk factors for projects identified by Vincit in their internal research. The purpose of the deck is to help project members discuss the risk factors affecting the project.
Use to manage project risks at project starts, project meetings, mid-term starts, or retrospectives.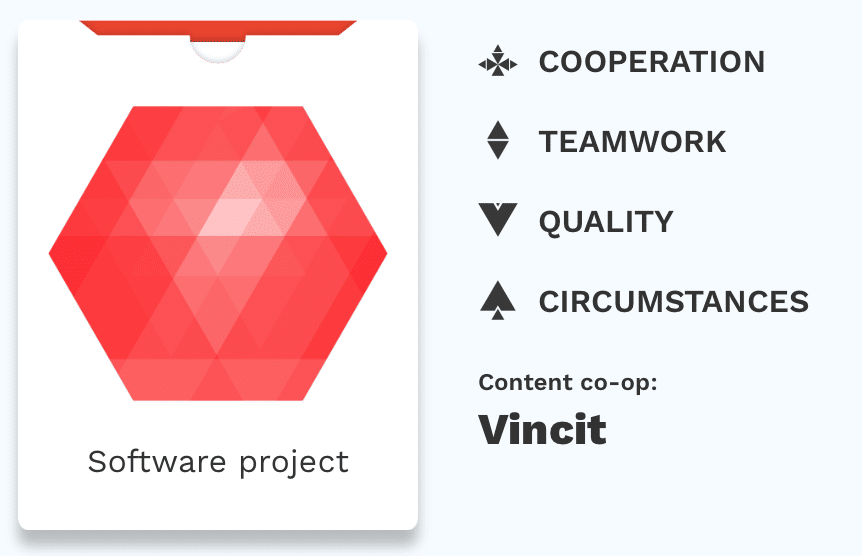 Software project
Deck for a retrospective of a software development project.
Use it to evaluate and develop a project situation in software development project retrospectives.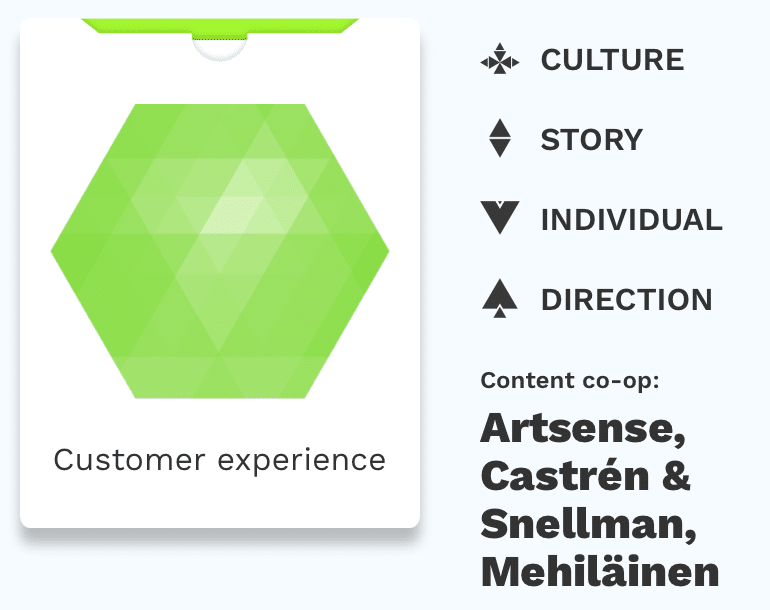 Customer experience
The customer experience deck deals with the customer experience created by the organization and its internal conditions.
Use in development workshops aimed at developing the customer experience or when the group needs to discuss the level and development of the customer experience.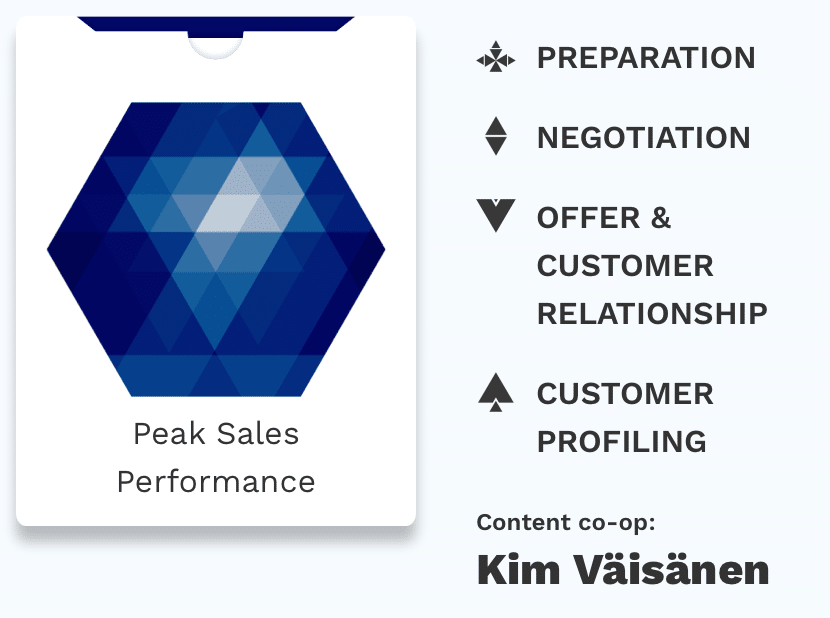 Peak sales performance
Peak sales performance game is designed to develop sales and sales teams. The game is based on interviews, views and reflections from top salespeople researched for Kim Väisänen's book Huippumyyjät (Top salespeople).
Play with sales people to develop sales e.g. Sales / Customer Weekly or Monthly Meetings.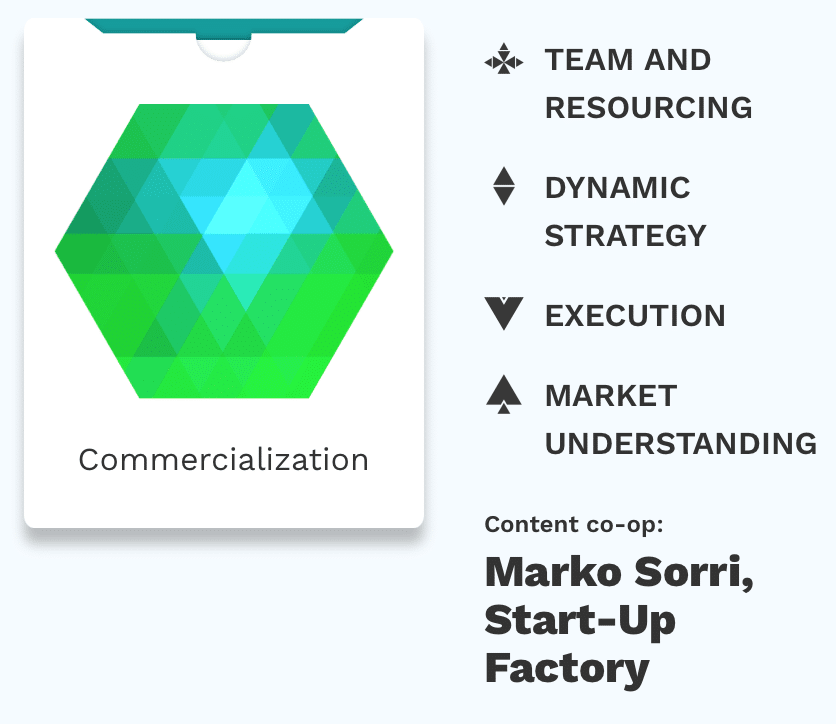 Commercialization of a business idea
Commercialization of a business idea – deck is intended for teams that are considering the conditions for a particular business idea to enter the market. The team can be a start-up, a team just considering starting a business, or a team in a large organization. The deck is intended to launch a rich dialogue and identify a plan of action, make it easier to deal with even the most difficult issues and help make good choices.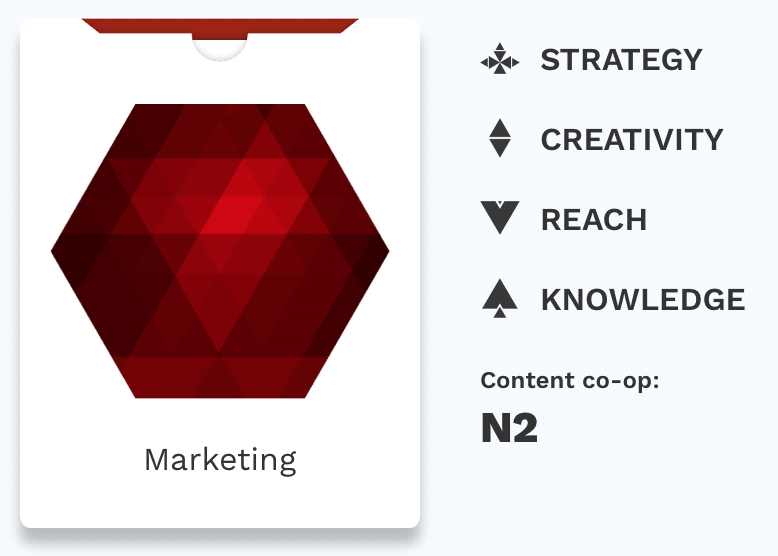 Marketing
The marketing deck deals with the reseaerch, strategy, reach and creativity of marketing.
Use to develop and evaluate the overall picture of marketing in weekly / monthly marketing meetings or development workshops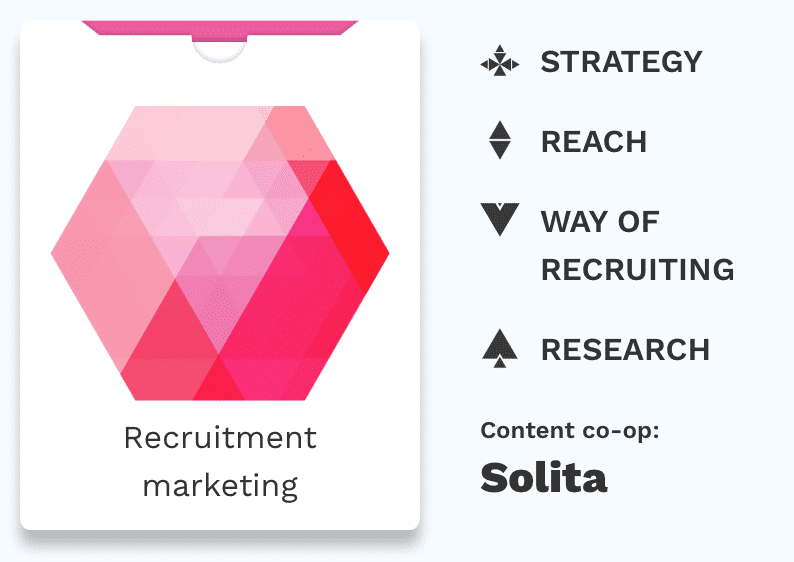 Recruitment marketing
The recruitment marketing deck deals with recruitment, the employer image and related marketing as a whole.
Use to develop recruitment marketing in weekly / monthly meetings or development workshops to develop recruitment marketing.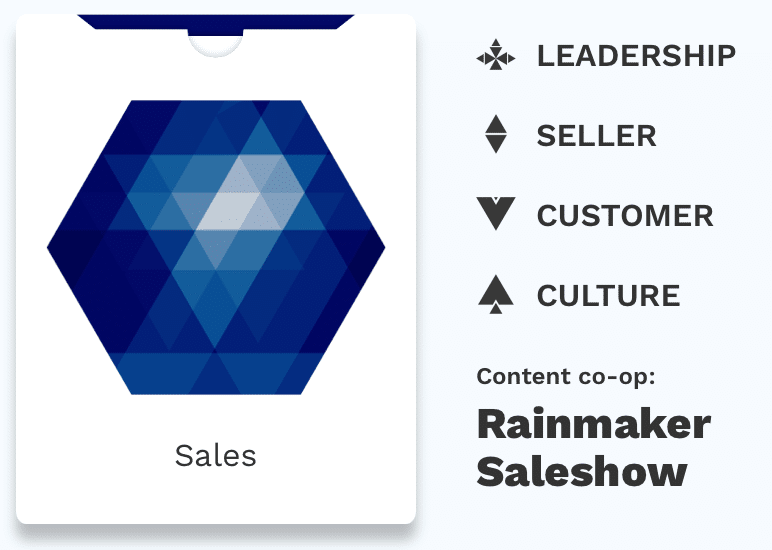 Sales
Development of sales and sales processes.
Use it to develop and evaluate sales and sales processes in weekly / monthly sales meetings or sales development workshops.