Topaasia®: Change Leadership. In the interview, the daddy of the deck, Antti Kiukas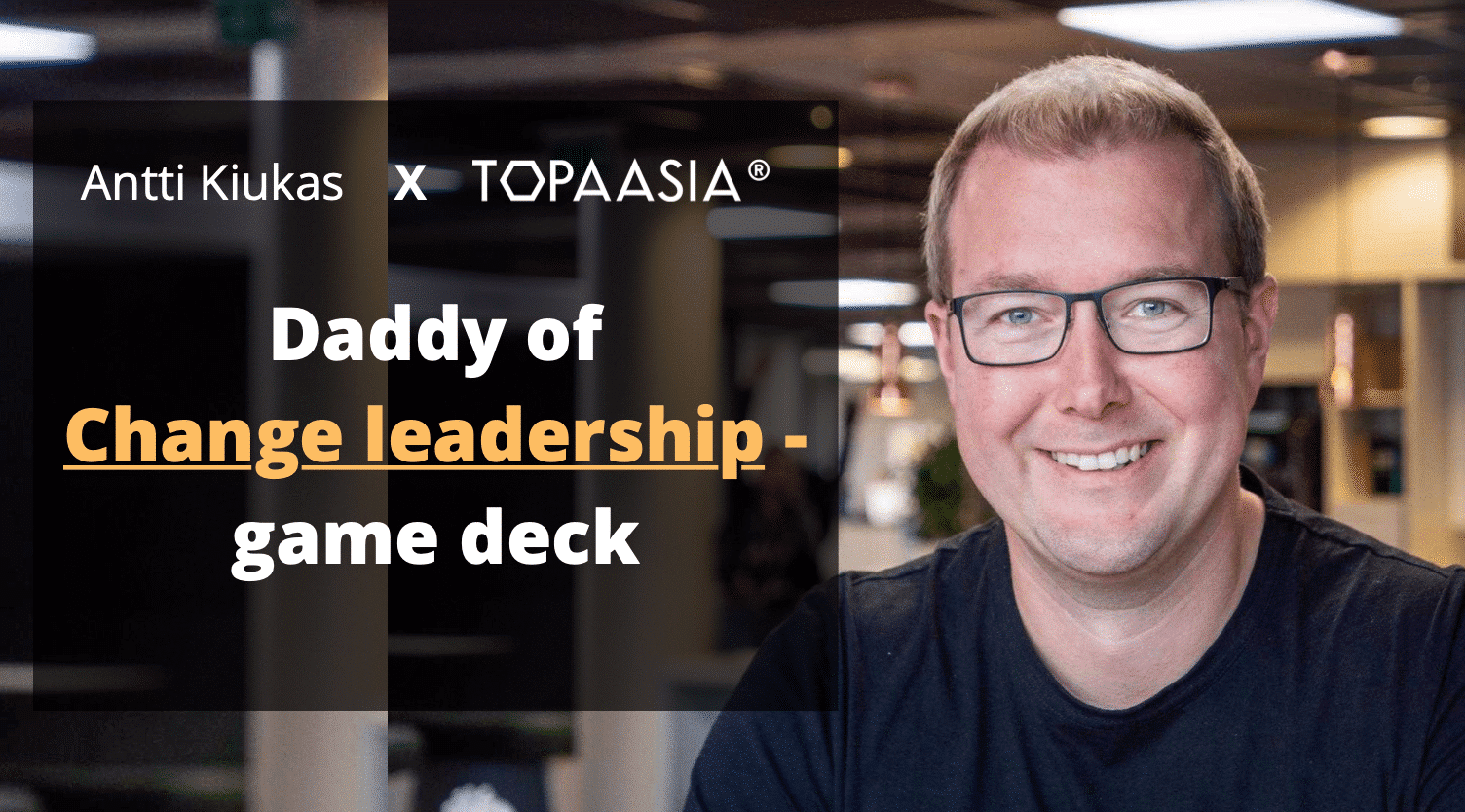 Antti Kiukas is an expert in change leadership and daddy of the Topaasia®: Change Leadership – deck. Antti leads marketing at Siili Solutions Oyj and he worked in his former life in management consulting for 13 years. He has previously described Topaasia – concept with"not so shit anymore"And now identifies as a big Topaasia – fan.
We worked with Antti onTopaasia®: Change Leadership – deck, which summarizes Antti's years of experience working with organizational change. In this interview, Antti opens his thinking about the contents of the deck, ie change leadership:
Making this deck has been a summation of my last 13 years of work. Many asked along the way that Do you ever write a book? I think all the good books have already been written and change leadership is already too much of an issue in the business literature.

It was nice to have my thoughts condensed into this format. Let this be my business book.

It is the most easy-to-read business book in the world: 52 sentences.
Why was this Change Leadership deck made?
1. We have known for a long time and I have seen the story of Topaasia up close. The basic idea in this game is ingenious and I had hoped this would take off big. I secretly dreamed that you would ask (Jussi) "Should we do a game together?". Now you asked and I think such deck was an instantly inspiring idea.
2. There is still quite a little talk about managing change. Hopefully, this deck would work to get organizations to genuinely start thinking about their readiness to lead change and how their culture supports change?
3. I have done an enormous amount of work around this subject, especially in my former life. It's quite an intellectual challenge, to sum up, 52 cards to argue one's own understanding of why some things change, don't change, get stuck, or don't even get on their feet. This is our best tuning for "if these things were okay, then changes would be more likely and certain to go through in organizations ".
What is change leadership?
Change leadership is a subtype of management, such as futures studies are a subtype of historical studies. There is a lot of talks that isn't all leadership change leadership? I would answer that up to a certain point yes. Hopefully, however, running a daily routine is not all the time a change concerned, but hopefully, there would be backstage stages and more mundane going at times.
Major changes include strategy renewal, internationalization, and the transition to a service business. In these, everyday life must be made to truly swing into a new position. Different ways and tools are needed to make big difficult things change from reluctant to attractive and scary to less scary.

This deck tries to tell which stuff should be in place so that the changes truly become the organization's own desired changes, rather than the boogiemonsters found on the strategy paper.
Why were these particular themes chosen for the deck?
Change Journey





Navigating is tricky if you don't know where you're going. Even the old folk wisdom says:

if no one knows where you are going, all roads are right for you.
If you have 500 people to take to somewhere, but no one knows where you're going, it's very unlikely that those 500 people will find themselves in the same place. Showing direction and communicating it are important things.
Actions





Change is always the word of action. A beautiful thought alone takes you nowhere. An idea without deeds only causes a feeling of inadequacy. You need to be able to talk about how things are managed within change.
Change skills





This theme, I think, was self-evident. Here we examine what kind of skills we need to have – management, supervisors, staff – in relation to change.
Snapshot





We need to know where we want to be in the end, but also what stage we are at now and how we are going? Change management is often a matter of rhythm and must rhythm must be lead. Things have to happen in a certain order and on a schedule.
What are your personal favorite cards in the deck?
We decided to bring a few bloody statements to the deck. Things that are all too often true but not dared to be talked about. Hopefully, the deck would help talk about these genuinely nasty things. In this context, a few of my favorite cards:
Special freedoms
Is it really the case when we decide to do and change something together that things are common agreements? Is it not the case that Seppo, a tough salesman, is not required to do common things? It's not fair to lead change when someone gets a "doesn't apply to you" card.
I have seen many times in my career that someone is freed from trying to change. It leads to others watching we don't have to try either, we don't have to try either. The change turns from implementing the strategy into a collective joke.
Termination
There is a lot of talk in this deck about whether there is enough time for a change.
The saddest thing about managing change is that the people who drive change don't understand the daily lives of other people in the organization. Some people's calendars are already full and there is no room for doing something new. There's then an attempt to squeeze in and push something new from the side, but it doesn't go there.
Who and what situations is this deck for?
This deck is perfect for all businesses and communities that are undergoing a change that won't happen with just a little bit of everyday optimization.
We talk about a bigger change where you have to change the way you think, the way you act, you have to dare to do things you haven't dared before, and learn to do things you haven't known before. This deck has been built for all such communities.

It would be great if this game started with a management team and spread throughout the organization so that different units and teams had the same discussions. Then we would have collected data on whether the idea of the management team is nowhere near what the idea of the organization is? It would then be noted that the problems of change do not coincide. There is not one problem of change per organization, but there is a collection of problems that appear with different emphases at different points.
What is the overwhelming value that discussing these issues can bring?
When building the next steps of development and change for an organization, one often thinks yes what to do , why do it and how to do this. These three questions are starting to be in the DNA of good companies. This deck opens up those questions about different aspects: in terms of time use, in terms of people's emotions, and in terms of, for example, the work of a supervisor.
This deck is an assistant of thinking. As the aircraft has a checklist for flight departure, this deck serves as a change checklist. If you can't play the whole game, then it would be good to even look it card by card, splitting it into two stacks, to see if it's okay or not? If the "not-okay" stack gets bigger, then it should be treated with a bigger group with an idea Are we ready to go through this change?