Commercialization of a business idea, interview with Marko Sorri, Startup Factory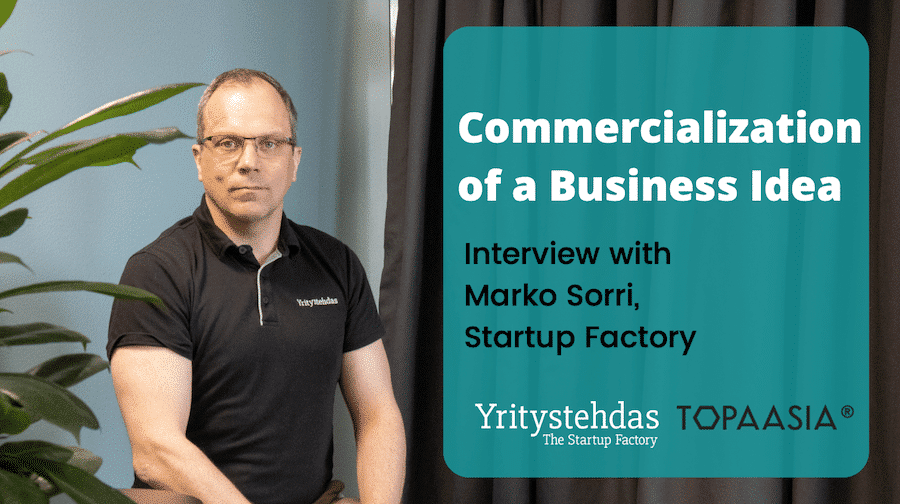 In this interview, long-time business coach Marko Sorri shares his views on the commercialization of a business idea and the new Topaasia deck "Commercialization of a Business Idea". Marko has a long career working with teams in the role of both coach and founding partner.

What do you like to promote in your professional life?
In my work as a business coach, I focus on creating understanding when starting to start and grow new businesses. I want to focus on promoting innovations that can reach their potential in international markets as well. With my own work, I want to promote the structuring of issues and dialogue at an early stage.
Why is commercializing a business idea an important topic?
There are a huge number of product ideas and turning them into a profitable business requires thinking about the commercialization ability of the business idea and thinking from a broader perspective. For this, a product idea with the idea that "this thing can be done better with this product" is not enough, but it is good to think about aspects such as:
how to make this commercially viable?

what factors contribute to make money enough to cover costs?

what factors contribute to the results below the line?
We at Jyväskylä Business Factory have a huge number of start-ups that are considering:
is our product idea a profitable business?

what things need to be done before seeing the answer?

what answers do we have to go looking for in the market?
These issues are on the verge of commercializing a business idea and related issues at a very early stage.
At the same time, I come across a lot of existing companies and even bigger organizations that are considering commercializing new business ideas and the issues are exactly the same in these environments. They may have greater resources, an existing clientele, but they too need to go through similar themes around commercializing a new business idea.
I think the starting point is that issues related to the commercialization of a business idea are realized at an early stage in order to build a profitable business in general.
It is important to form a vision of what things to face when starting to build a viable business plan and to realize what needs to happen beforehand. This will increase common understanding to support decision-making.

Why did we make a business idea commercialization deck?

At Jyväskylä Yritystehdas, we are constantly seeing needs to realize issues related to the commercialization of a business idea. From the perspective of our teams, this deck forces us to think about the core issues at different stages of the commercialization path, because different stages emphasize different things. The commercialization of a business idea is a basic precondition for a company's operations. Our goal at the company is to train product idea owner teams to a profitable business idea, and related core issues have been bundled together in this deck to be handled together. The end result is a plan of action that precedes making choices among the key core issues.

I am also a big fan of Topaasia. I have played and facilitated numerous Topaasia sessions. I think the Topaasia deck selection still lacked a business idea commercialization deck for early-stage teams.

Who is this deck for?
This is a deck for teams that are considering the conditions for a particular business idea to enter the market. The team can be a start-up, a team just considering starting a business, or a team in a large organization. The deck is intended to launch a rich dialogue and identify a plan of action, make it easier to deal with even the most difficult issues and help make good choices.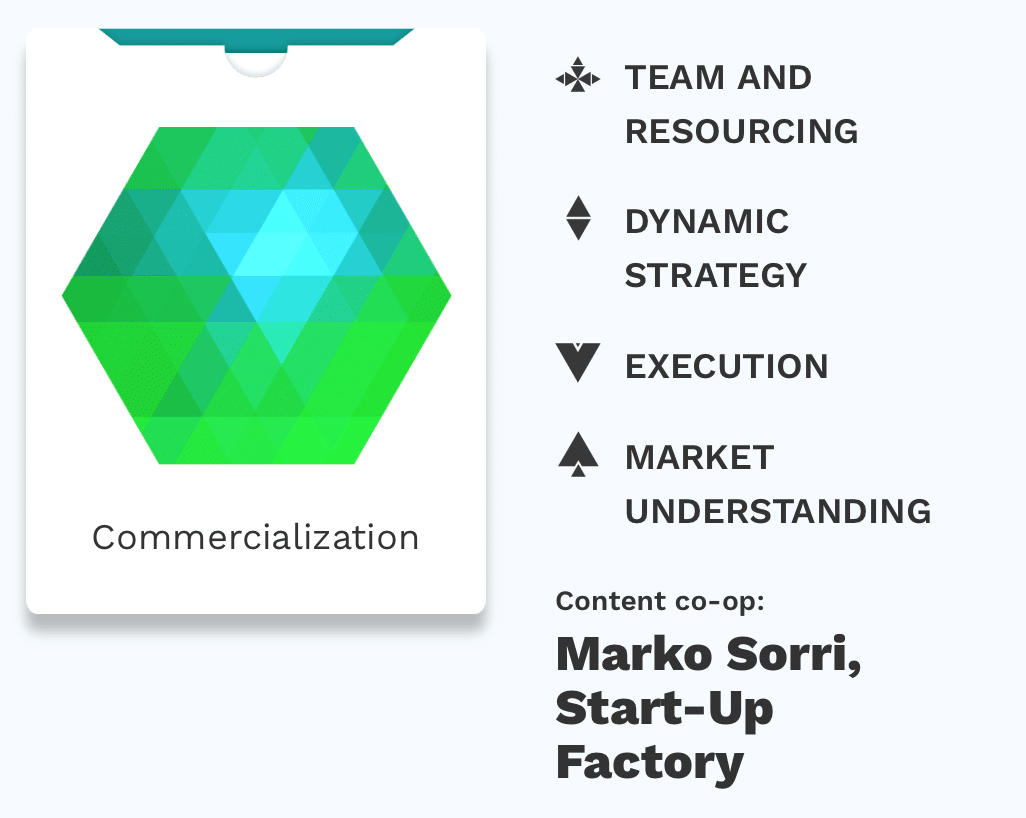 There are four suites in the pack: why these four suites?

Market understanding – To which market are we taking the business idea and what do we know about this market? What things can contribute to increasing our understanding of the market and how do we find out if there is room in the market for our business idea at all?

Dynamic strategy – What is the agile way we bring a business idea to market? There are a lot of things to test around the new business idea that will draw conclusions and change direction, how do we do this? How do we refine our plan to take the business idea forward?

Team and resourcing – Do we have enough funding? Does our team have the necessary skills? What should be considered in the scaling phase?

Realization – "Planning is important but the execution is everything", how do we ensure operations? How well are we going to implement the commercialization phase?