Topaasia® Customer story: Anna Kaisa Ojala – City of Turku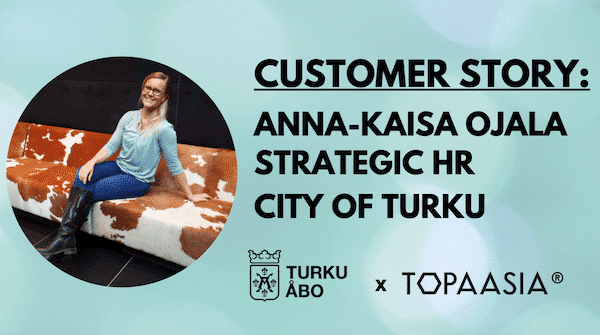 Anna Kaisa Ojala works in the City of Turku 's Strategic HR Unit. At the city level, she is responsible for well-being at work and managing work ability issues. In this customer story, Anna Kaisa talks about the City of Turku's experiences of using Topaasia digital service in several different use cases.
In what contexts have you used Topaasia?
We have used Topaasia in the welfare industry, the education industry, strategic HR and occupational health care.
The main theme in Topaasia has been the development of the work community. More specifically, refining everyday working methods, showcasing strengths, and developing the future. We have also used the tool to develop remote learning and work community skills.
After Covid pushed on, we have also played Topaasia to develop ways of working in exceptional circumstances.
What value has Topaasia brought?
By far the greatest value is strengthening team interaction. All the conversations I've personally witnessed have taken me into in-depth self-reflection from the perspective of team interaction. I feel like it all starts with that, so we've been at the heart of things.
The challenge for large organizations is often that development goes to really big levels and can stay away from teams and individuals. Compared to traditional development, the added value of Topaasia is the division of everyday development activities into sufficiently small pieces, which makes everyday development realistic.
We have achieved a value-based, but at the same time very concrete and day-to-day reflection on working methods.
The playfulness of Topaasia creates interaction where everyone gets to speak out loud and no one is forced. The game is a very participatory tool. There has been feedback from the teams internally that "it's great to hear" views from quieter people as well.
Finally, I would like to highlight the big picture perspective. In all the games, we have gotten to think about the overall picture of our work, which is usually very rare in everyday life. This has received special praise from the players. I also see it as valuable that this will lead to a bold, innovative debate in which, as it were, everything is possible. I have facilitated games and in them I have brought out opportunities and future orientation.
Have you had a favorite game deck?
The first favorite deck in the initial pilots was Work community deck and the second has been System intelligence deck.
Both have been good and System Intelligence in particular has served to discuss the development of exceptional circumstances.
What kind of feedback has come from your teams?
The feedback from the teams has been that game arouses a lot of thought and reflection. The game gives a moment to the kind of discussion that is needed in today's working life. An hour is enough, because you get so quickly below the surface, as far as you want to go there. Moments of stopping are needed and this gives it a chance.
It has been kind of sad to notice that while moving at a fast pace, people feel that nowhere does they stop to look at what has been achieved.
This has been a valuable tool because it gives us time to stop together to look and reflect on the past, plan for the near future, and reflect on what is valuable and meaningful to us in the big picture.
The development story of one team
With one team, we had two Topaasia discussions where I think there was a great change in thinking. The first session produced a world-embracing, value-laden, and strategy-driven discussion. When we were able to continue the discussion after a couple of weeks, it was honed into a concrete and small everyday development topic that was recorded. I recently received feedback that the matter has been taken forward. As a point of the story, I think this tool works well in a process-like way as well.
Would you recommend Topaasia?
I recommend it to all people who work in teams. Above all, I want to emphasize the clarification of the work and the overall picture of the team. I also recommend Topaasia to showcase the strengths of the work community, which is not yet very natural in Finland. I also recommend it when you want to take the development of everyday life forward in small enough pieces.