Topaasia® Customer story: Ulla Luukas, Howspace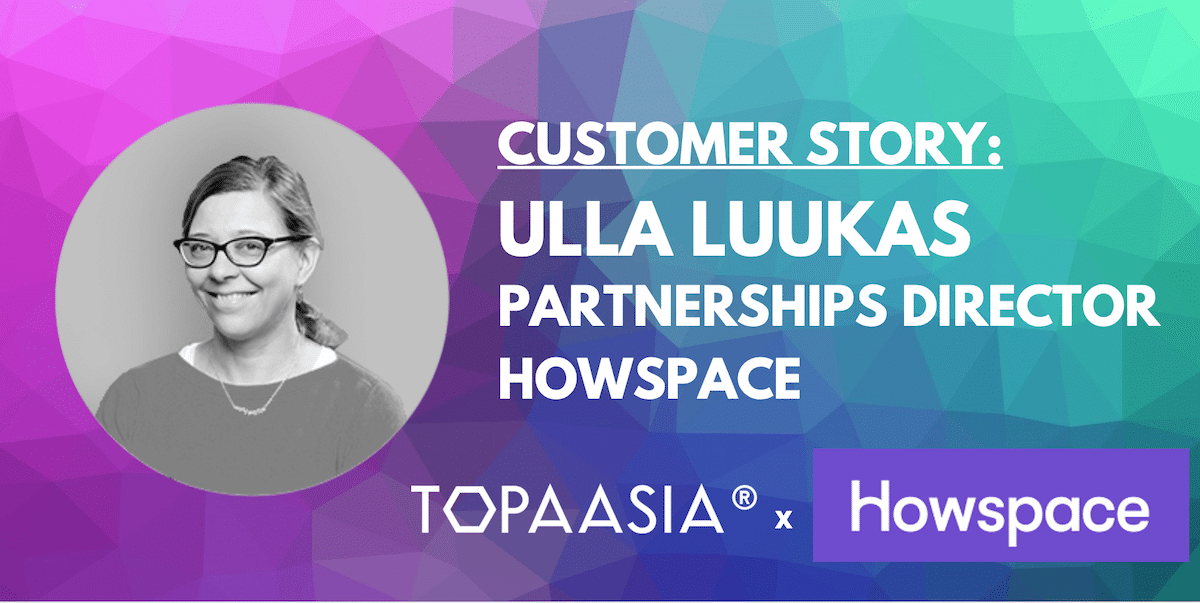 What kind of background idea you had to use Topaasia?

We hold Howspace Days twice a year. This time, one section of the Howspace Days was a digital workshop that required clear discussion themes for the development of our work community and work. I called Jussi Galla and we set up the games.

We organized completely digitally
We had chosen the deck to play (Work Community deck) and the perspectives in advance. We divided the team into four groups and started playing. A total of forty participants took part in the game.
In short, the game sparked a good debate and its procedure is clear. The game directs dialogue to choices and helps squeeze concrete follow-up.
What value did Topaasia bring?
Topaasia makes people working in the work community discuss important issues that would not otherwise be considered by the group in the rush of everyday life.
The game works well as a forum for discussion, in which people bring out their own views. Everyone participates in the game, and not just the loudest ones. I think this is the impetus to really start doing something about the things that have been discussed.

Would you recommend?
Absolutely. I have used Topaasia before, but this was my first time in this organization. The digital version worked very well for even a larger group. Dividing a larger group into smaller groups, I think, needs game leaders, but I think it's easy to get involved in the game and facilitate it at the same time.
I recommend Topaasia:

1) For smaller teams with a clear need for operational development. There are so many different game decks in Topaasia so it is suitable for a wide range of development needs and themes.
2) Even for bigger organizational development, as facilitating a digital game as a whole is very easy.
I would say that playing is suitable for everyone who wants to develop activities and bring the so-called. "Small group gossip conversations" transparent.

—-
Thanks Ulla and Howspace!
View Ulla Luukas' s Linkedin profile:

Read more about Howspace