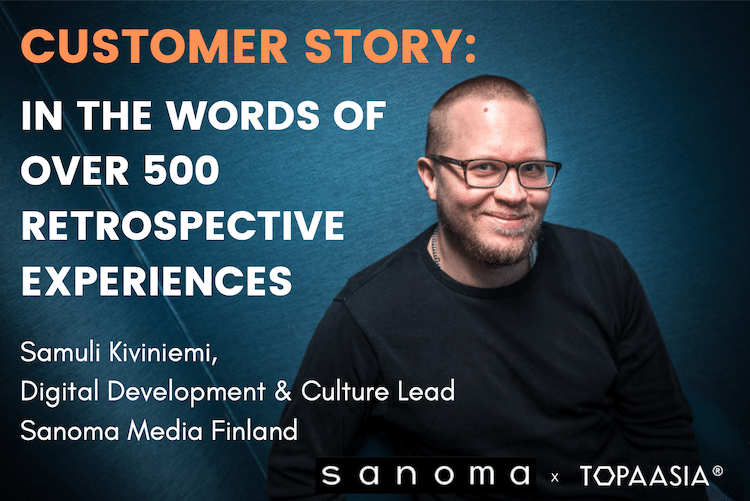 Who are you and what do you do?
Samuli Kiviniemi, Sanoma Media Finland. My LinkedIn profile says that I help individuals, teams, or organizations to do their work better every day. In that regard, I do different things that act like an awkward transition to Topaasia: Often my job is to facilitate retrospectives.
Sometimes I do different metrics for teams e.g. how the median has gone in the last four months or the last week. In metrics, it is important to remember the evolution of the relationship where and whether the trend is up or down. The development of the vibe can also be measured.
What is a retrospective?
Retrospective, if you want to translate in Savo-dialect, can be a tool for continuous improvement or a "kind of gathering". Personally, I think they are regularly recurring moments looking back at a selected period of time: how has it gone and what do we want to improve in the future? Such moments of different scales. The retrospective may be a small retro from the last few weeks or from a longer time perspective like the big picture of the big project, but there is some development involved. Retrospectives are facilitated because the condition of the teams is never complete or perfect.
Retrospectives can also be related to one-to-one mentoring, which looks at the past two weeks for an individual only. With teams, the point of the retro classically is the pros, cons, and what steps to take, e.g. the next three weeks ahead. There are a varied number of practices for retro.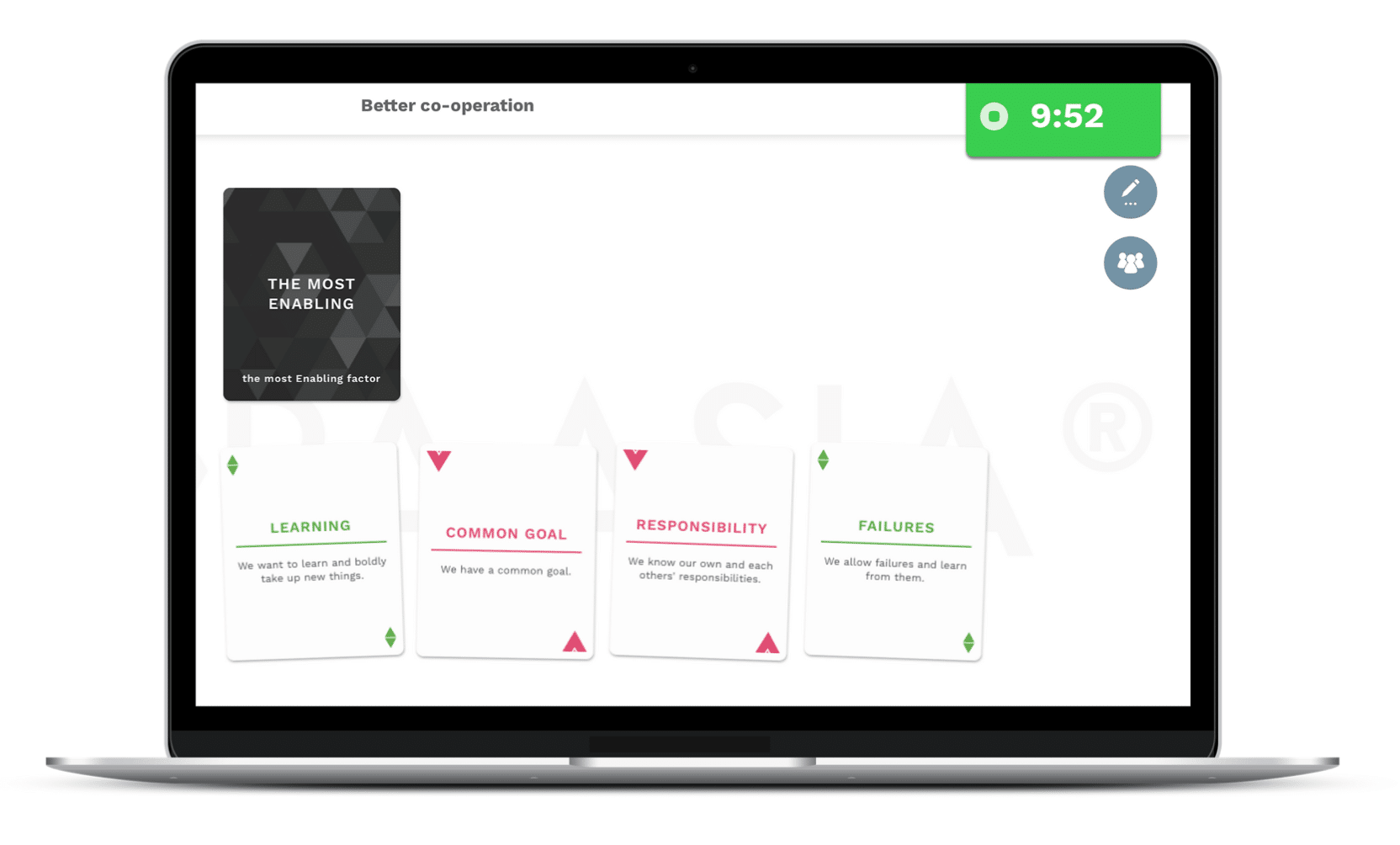 What is your most memorable retrospective of all time?
I don't know of all time, but the most recent in the memory is a retro that was facilitated with Topaasia. There was a negative starting point: a bad thing that hadn't been successful and the challenge was how to go through it in a way that the team would still learn something more and not make the same mistakes again.
It would probably have been possible to get a good result even with traditional post-it notes so that everyone writes their thoughts in their own words, but I guess it would have taken a lot more time. So the Topaasias classic motto results in a hour just worked at that point.
This retrospective was memorable because the set-up could have been that the team had reacted very negatively to the whole situation, but Topaasia allowed for a constructive discussion. I don't remember whether that retro conjured world-embracing action points, but it didn't matter in this case, it mattered how it went vs. how it could have gone. The contrast was strongly on the positive side.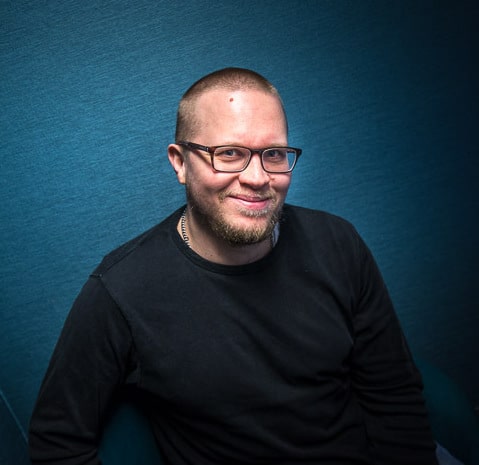 Samuli Kiviniemi has +10 years and over 500 retrospectives experiences of team development
How is Topaasia positioned as a tool for retrospectives?
I have worked in the world of retrospectives for at least 10 years. I facilitate approx 60 retrospectives in a year and I think the limit of 500 retros held is already broken. So I have seen and experienced a few of these.
Before the time of Topaasia, I used a lot of post-it tags and will still use them sometimes. But in the post-its, you have to come up with a new, different way to arouse thoughts in people every time, and you have to do a lot of work to achieve that.

In Topaasia, however, variation is easily achieved as the game template is already familiar to participants: the game runs through in the same way, but you get a different angle in every session purely by either changing the deck and/or choosing different perspectives for the session. There will be variance in it, but it's still a familiar way to facilitate the retrospective.
I noticed from a past life that retros were easily facilitated in different ways just because I wanted to practice different ways. But then it felt like the participants, for whom retrospective is primarily done, found the variation confusing and not so meaningful. There was too much variation. Now the framework is always known in Topaasia, but small changes can enliven and renew the dialogue much more than inventing something yourself. The frame brings certainty to the participants and the facilitator himself.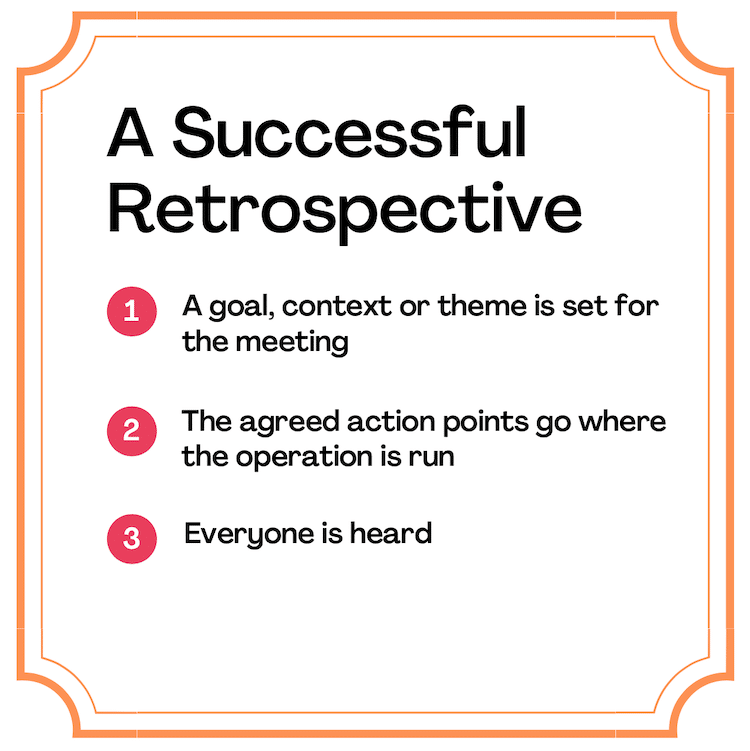 What are the three cornerstones of a successful retrospective?
At least five action points, just kidding. In my opinion, a successful retrospective does not always have to have the same elements of success, but I will raise a few points as the most important:

1) A goal, context or theme is set for the meeting
At least the probabilities of a retro or meeting deteriorating increase if no goal, context, or theme is set for it, that is, what would be desired. It doesn't matter if it's a retrospective or any meeting. It's more likely to get watered down if you just kill time and talk about something that doesn't lead to anything.
Nevertheless, the dialogue itself can be valuable, it is only a more difficult thing to measure. It can be a thumb vote, feelings index, or any other metric of perceived benefit. It is enough to measure success in the retrospective.

2) The agreed measures go where the operations are run
Of course, it is good if there are action points decided at the retrospective. I think the retrospectives have suffered from inflation in terms of action points, because often the decided actions in the retrospect are somehow a separate matter in themselves and do not move into the same medium where the work of the team is prioritized anyway. If what is agreed in the retro does not become part of sprint planning or other work planning, then it is unlikely that they will be done. If we have a software development team, less often those actions will swim where the action is run, be it Jira, Trello, or post-it tags on the wall, but that's where they should go.
3) Everyone is heard
One of the signs of a successful retro is that everyone is heard no matter how quiet or loud people are. The leader must make sure everyone has a say. No one should be left with the feeling of not being able to participate. I have to praise digital Topaasia as well because it works very well in that everyone is able to pick up a conversation and say out loud the ideas that are relevant at that moment.
How and for what topics have you used Topaasia?
The topics have varied a lot: I have played with sales and marketing, with software development teams, with project managers, overall with people in very different roles. I have run Topaasia sessions around the organization for people in very different roles and it has worked well for all roles and teams.
A typical gaming topic has been some repetitive continuous improvement workshop or a big finished project or project and dealing with its insights. Sometimes there has been such a big team that we have played in two parts, first one half and another half afterward. The games are played at the end of the project or as part of the team's daily routine.

What do you like about Topaasia?
With Topaasia, the team gets to the heart of the matters much faster than with the traditional post-it tagging method. The post-it tag says what everyone wrote there, and it's a nice variation to keep retro sometimes in the traditional way, but it takes time for extra coordination like grouping: here are these five similar notes, on which group they would be and whether to vote for that group. Topaasia has gotten to point much faster and there is certainly nothing left for people to say, despite the fact that the cards are not written by themselves.
My favorite game decks are System Intelligence and Self-organizing Teams . The General deck was used at the beginning if none of the participants knew anything about the tool.
Topaasia has a new feature: the deck editor that can be used in co-operation with the team: Let's say in our language these things so the deck feels our own. It largely removes obstacles if you don't feel like the cards in the ready-made decks don't feel quite your own.
And as sincere positive feedback towards Topaasia, the acceptance of development ideas. Are they all going to be live, that's all the same, but I think it's important for the buyer that you call and keep in touch that hey such new stuff, let's go through. It has a feel to it and I appreciate it.
The main benefit is a quick discussion of the right things at that very moment.
-Samuli Kiviniemi
What do you think you should consider when trying out Topaasia?
Whenever it's a new tool, I recommend doing a little preparation and getting to know it, even though the game is kind of a "plug-and-play complete package". Here's how to get started:

1. Facilitate a retrospective for yourself
If you've never tried the tool, you might want to play it through yourself by facilitating it to yourself, participating with your own phone or laptop. Often the team participates on the phone, so it's worth trying and testing what that interface feels and looks like. Then you can guide more easily when you know what's going on there.

2. Get to know the game decks
There is a chance of a bit of a failure if the chosen game deck is not terminologically relevant to what the team is doing. Once I facilitated one retro and I guess I used a general dect that used the term "testing" and "project meetings", so it sparked in the team what this means, I didn't understand what that .

So it would be good to think about that a bit what kind of people do we have coming to this retro? What would be a good topic? and then selects the deck though so as to make sure the team thinks it could be used for this, is it ok ?
3. Pick just a few perspectives and also positive perspectives into the session
For the very first time, if I had sessions, I wouldn't take many perspectives and I wouldn't actually take more than three at all. Two positive and one more challenging perspectives is pretty good. People usually like negative things and are easily stuck in them, so you shouldn't take too much them the most challenging, most preventing and frustrating. I am not a regular supporter of hamburger feedback, but the dialogue is more constructive if it discusses a positive perspective than the fact that all perspectives are annoying and challenging.
Who would you recommend to try and for what type of situation?
General retrospectives
Whether it was a team from sales, marketing, software development, testing, etc., too few teams look at their way of working anyway and think about what is good, what is not good, and what should be done next. General retrospectives like this would certainly be able to be held at any time for any team.
Processing job satisfaction surveys
Another thing where I help people at Sanomat with Topaasia is job satisfaction surveys. There are various areas that arise from them, be they usually relate to management or well-being at work, for which Topaasia works well.
Sometimes people come up with a big list of different things they would like their team to look at and develop. Prioritizing such lists with Topaasia works, but also if the team wants to focus explicitly on one theme, such as leadership. Then just select the deck related to the leadership and play with it. It is a much more effective and better option than developing something exotic yourself.
——-
Thank you Samuli!
Read more: