Customer story: BRP Finland Oy, Heli Satokangas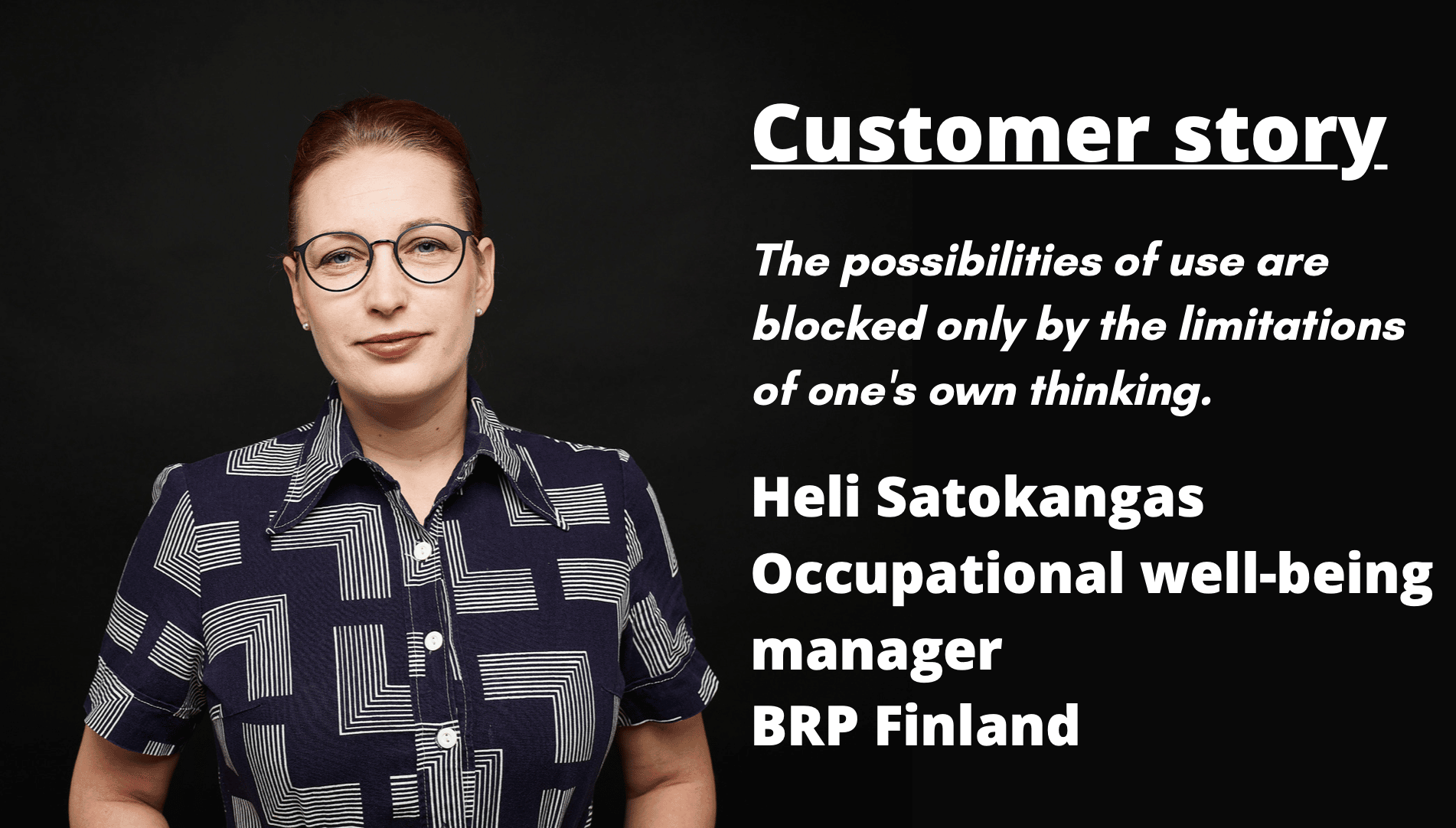 Who are you and what do you do?
I am Heli Satokangas, BRP's, or more familiarly the Sledge Factory's occupational well-being manager.
My responsibilities are well-being at work, work ability management and learning, and internal communication. In practice, this means the operational management and joint development of partnerships related to these themes in external networks, as well as a strong presence and listening in the daily life of the factory.
For us, learning means ensuring organizational competence and learning, both through strengthening an individual's competence and motivation, and from an organizational perspective, for example, in situations of change, developing teams, building common understanding. The theme can be anything, for example, the responsibilities and obligations of the work community, strategy, safety thinking. At the individual level, this means learning on the job and ways to work in different ways, job mentoring, coaching, apprenticeships, different qualifications and courses, webinars – the aim is to provide opportunities to learn and develop as openly as possible. Collaborative learning is a broad entity and there are many different facilitations and workshops each year
BRP learning journey

A few years ago, I began to systematically make learning visible for us. Of course, good structures already existed, training plans and annual discussions with superiors about the needs of the team, as well as common themes that were taken forward for the whole team. However, I thought it was important to give individuals the opportunity to influence and decide more for themselves. In the old model, a lot depended on the supervisor as to whether there was a discussion within the team about what each needed to develop, which motivated – there was too much focus on the supervisor's perspective and technical expertise.
In the beginning, I received a relatively large amount of feedback that "unnecessary and time-consuming" trainings appeared on the calendar that were not felt to be relevant. For example, why does anyone need facilitation skills when there is this rush here anyway? Things evolved and gradually the number of participants increased and interest in new openings increased. The general change has also been on the learning side. Every year, people are more interested in their own well-being and professional competence in many ways, and interpersonal skills are also emphasized year by year. Today, we are in a happy situation and people already know how to hope for themes that are good to talk about together.

BRP Finland manufactures motor vehicles such as snowmobiles, watercraft and ATVs
There are almost 500 of us in Rovaniemi. A few years ago, we had 4-5 people a year in an apprenticeship. There are currently about 30 apprenticeships in progress and the number is growing steadily. At first, this was the conversion work of individual people – I started circulating those guys: "Hi you have been in that position for 4 years now, have you thought that a professional degree in management would be nice or should you read more about mechanics". People were taken from it and often replied, "do you really think i could study? I have always thought I could but I have not dared to leave.. "
In the end, people are pretty excited about learning something new, even though getting started is scary. Learning something new seems to be more a matter of permission than a matter of competence, and of course being on the edge of something new is always a little scary – especially for us adults. I feel that the biggest achievement in all of this has been the general opening up of the debate – people take part and dare to say – and the good feedback that the issues that need to be developed are being raised more boldly.
What is the role of facilitation tools?

One part of my job is facilitation, typically a workshop – type activity, and increasingly, teams also order help from their own team meeting to solve a problem or development or to open cooperation between teams. Today, people already know how to play some different games, but years ago, when Topaasia was started, the reception was a bit "what on earth, playing cards at work?" type. Nowadays, many kinds of games are a used and will not be new to many.
One role of facilitation is warming up. Especially if the group is not used to working together, but can also be a team that has worked together for many years but has not yet learned to discuss and solve problems together. The warm-up works so that you dare to talk to each other and everyone gets the floor in general. The game is a good method because behind it you can talk and dare to talk. I also like that with the successful warm-up, the crowd is really on the sidelines and the focus is on the right place – the rest of the day is more focused.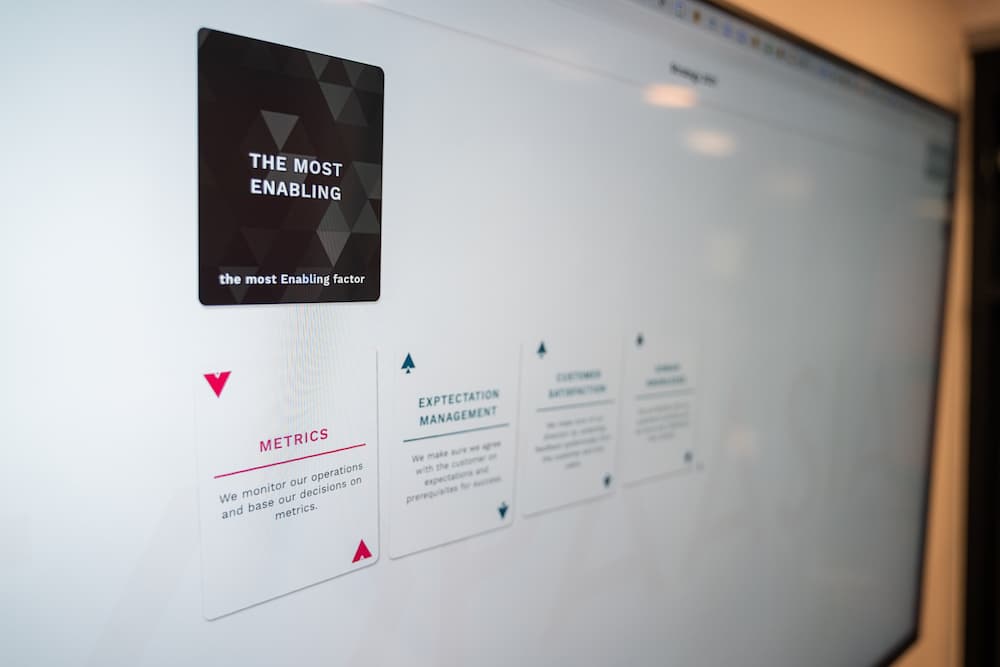 Topaasia is a scalable facilitation game
Another role of playing is to find common ground. An example is our own HR team, with which strategy work has been done regularly for years. We use Topaasia when it comes to finding something important together that we can take forward. If we five mistresses start a discussion about our own important things, we will never find that common ground. Topaasia helps us dig out that one and the most important thing: "Customer need is what we are now focusing on". Then think about what prevents this, what makes it possible and who does what. Topaasia acts as a aggregator of thoughts and a giver of perspectives.
In what situations have you used Topaasia?

Supporting an open learning culture, Topaasia presentation material is available and a game session can be ordered from its own internal Learning & Competence website. I've always reserved 90 minutes for the game. Usually I work so that the first 60 minutes are gaming and the last 30 minutes are digging deeper. For the first 60 minutes I am a facilitator and the last 30 an organization developer. Before the game, it's important to go through the core issue with the team leader – what's being sought here now and what that perspective is. It is important to create an understanding and a clear delineation for the group before starting the game, e.g. team development – think from our team perspective, think about our own development needs. The ideas easily spills over to the level of the entire organization. A good guide is always the perimeter of influencing – trying to position the question so that it is at a level that can be influenced by the playing team can be decided. This can also be reminded in the role of facilitator if the discussion leaves the team or your own sphere of influence. We all know how nice it is to talk about things in the outer circle that can't be influenced that can't be decided – typically the number of staff, the tools and the money.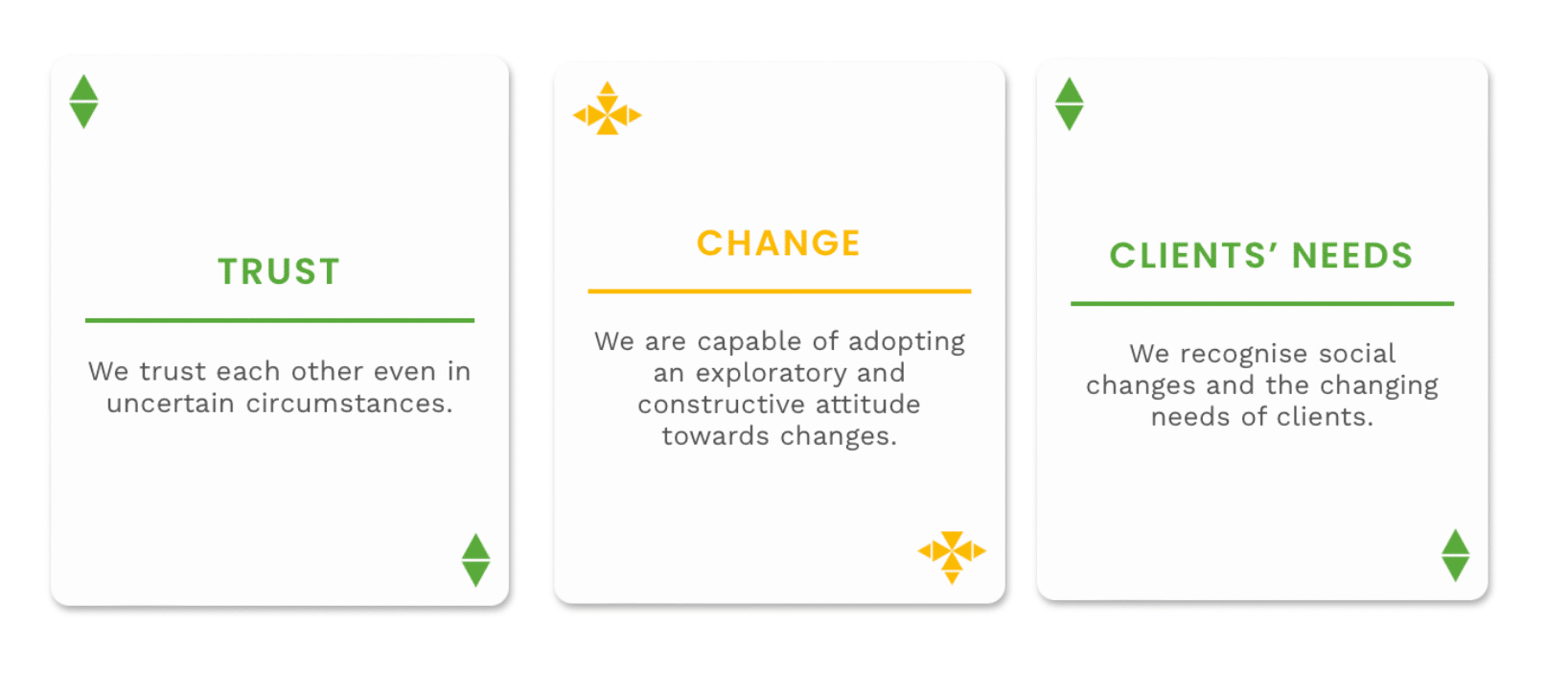 Cards from the Topaasia: Self-organzing teams which have risen to discussion in BRP game sessions
Four concrete examples of how Topaz has been used:

1. HR team game session: Customer need was selected as Topaasia. The customer was defined as an internal customer, ie BRP Finland's personnel. We concluded that it is worthwhile and can make a difference. It was analyzed what is currently hindering the realization of the matter and concrete actions based on customer needs. As a follow-up task, each team member thought about what this meant in my own work and took their own plans to personal goals or a development plan.
The next time we played, trust was chosen as Topaasa – we thought aloud throughout the year, for example in team meetings – if we do or communicate this, will this increase confidence or decrease it from the customer's point of view.

2. Team X game session. Change was selected as the Topaasia. It is often desired to think that change is good, but in reality change is not experienced that way and different people are at different points in the curve of change. The openness of the team began to be harmonized through meeting practices, and the opportunity for resilience coaching was offered. It is sometimes amazing to note that the everyday life of one team of the same team is not quite clear to the other and this results in a few accidental clicks inside and out of the team. We have mirrored why change is difficult, how to approach the customer perspective, what are the border in our team, why communication is difficult and so on.

3. We have Topaasia openly in use, which means that any team can order a game session from HR whenever they want. Many teams have gone problem-based, meaning a game session is ordered when there is a certain problem on the table.

4. We meet annually with production-related Teams, about 40 staff members, for a couple of days to reflect on what has happened in the last production season. Here, the part of HR has been to play on Topasia so that teams stop to think about what we're on as a team in the middle of doing all the production.

What benefits has the use of the game brought to you as a facilitator and participants?

The biggest contribution has been that in Topaasia, the team itself makes visible what is most important to them at that moment.. Topaasia opens up the team's landscape and serves as a key to agreeing together on what happens next. In this case, the executive also remains in the team, and it is not outsourced as a wish list to, for example, HR or management.
Topaasia makes it possible to bring a cat to the table, and difficult things have come to the fore: there has been a debate about trust, overloading, or the fact that tools are old-fashioned. It is a good idea to use a facilitator to take notes on the sessions for further development and allow the team to focus on the discussion.
I look at it from an HR perspective and like many of us, I have to report in some direction, making the concrete result from the games very useful. I can go throuh e.g. with the human resources manager that this team is very top notch, one could ask if they can spar this other team on this and on the other hand i think this team should have a coaching session. All in all, increasing understanding and making it visible is helpful.
Topaasia is a top aid for long-term development. The game is used to plant a seed – something has been identified that needs to be done together. Sometimes it's practical things, sometimes it's the direction of thinking. It's great that once a chosen perspective can then be tracked using this. "Hi, we chose that trust – Let's take a game now with that other thing. Have we known where to go?"With Topaasia, the possibilities of use are blocked only by the limitations of one's own thinking.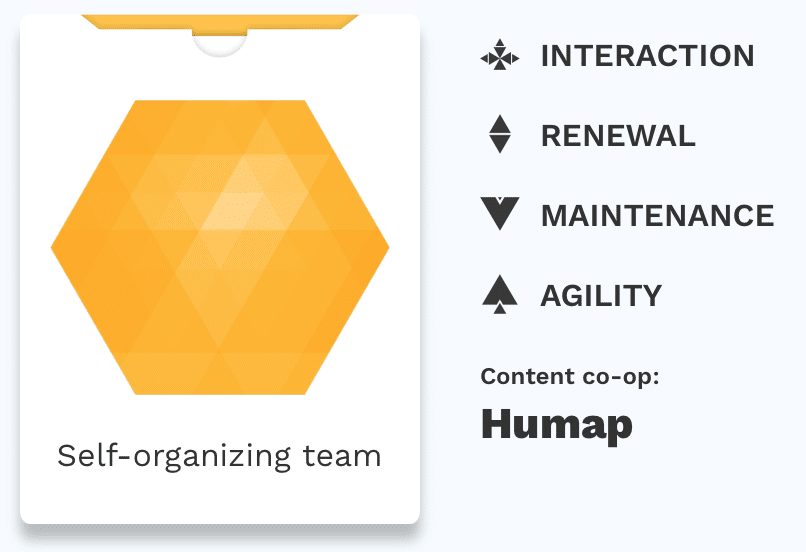 Topaasia®: Self-organizing Teams content has been made in collaboration with organizational consultant Vesa Purokuru.
Would you recommend?

Yes. There are many decks in the service, and the one I use often is Self-organizing team because it's a general team deck, and it works for both a crisis and a situation of change, and that is what it is all about. In many situations, you have to learn together and move on. This is terribly interesting to play not only in the face of problems, but also when on the verge of new development. That's when you get a crackling positive experience.
We have just used the Pro-feature: game deck editor – it was so much fun that we have the whole team enchanted by it and it seems to have new use-cases every week. Using an editor together to make a deck has been really interesting – but it's definitely a different story to it.

After all these years, the most memorable moment is when the mail brought the first physical deck of Topaasia to me and there was a nice message you handwritten: " Thank you for ordering and have fun game moments !"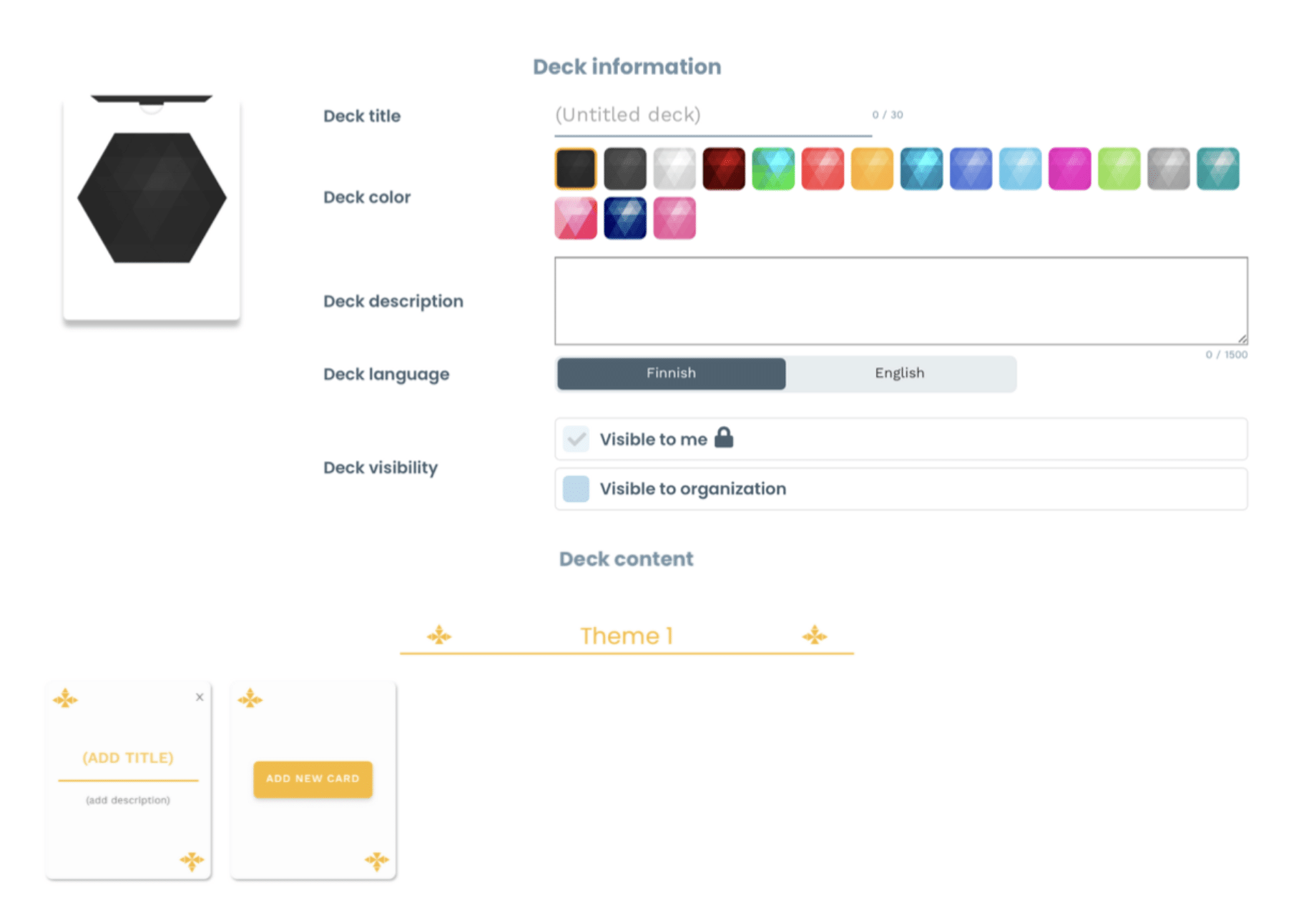 With the Topasia game deck editor, you can create your own games for your own needs with your own terminology and words.